Trail & Crag is a place to come for in-depth information on all things outdoors. While it focuses on rock climbing, mountain biking, trail running and hiking, this blog explores topics ranging from basic wilderness skills to specialised activities like fastpacking and canyoneering – and everything in between. All of this is produced by one very busy author.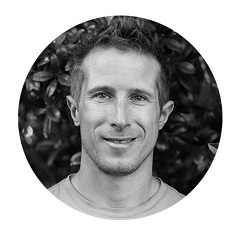 Who is this guy?
My parents complicated things when they gave me a middle name and then called me by this instead of the name used on all official documents (In my case 'Jean Paul' is not hyphenated). So, that's Paul to friends and Jean to the South African Revenue Service and anybody else I don't really want to hear from. Since we're on a first name basis here, it would be best to think of me as Paul. But that's just what I'm called and not what I do, which is probably what you really want to know. An avid outdoorsman and native Capetonian, I spend most of my free time out in the mountains and rocky deserts of the Western Cape, an incredible outdoor playground for those lucky enough to live here. And when I'm not out on the trail or at the crag, I'm probably pouring over a map and planning the next trip, or updating this blog.
Over the past 20 years I've lived in many places – UK, Colorado, California, and Taiwan – and have been fortunate enough to ride, hike and climb in some truly amazing places, but I always find myself returning to Cape Town for family, friends, and the many outdoor attractions that this city has to offer. I've been back five years now, and it's been a great place to lead an active and outdoorsy lifestyle while working a regular job and trying to start a blog on the side. But I also have a serious case of wanderlust, and it's only a matter of time before my adventures take me abroad again (more about that in a minute).
What am I trying to do here?
What I've tried to do here is create the kind of blog that I'd want to read. There are no articles written solely for sponsorship or affiliate links – the kind with titles like '10 items you just absolutely have to have on your next hike' – and none that simply rehash what has already been written. Instead, what you'll find here are thoroughly researched, in-depth articles designed to help you make informed decisions on gear selection, techniques, training, and trip preparation. On some pages, I've also shared my musings and personal philosophies.
Where am I going with this?
The dream is to grow this blog to the point where I can monetise it, give up my day job, and take this on full-time, a transition that opens up a world of possibilities. I still have a bucket list as long as my arm, and with the ability to work anywhere while doing what I enjoy, I'd be able to climb all that rock, ride all that singletrack, and hike all those trails. Of course, monetising a blog while maintaining editorial integrity is no simple task, and so I've laid down some standards for Trail & Crag – standards that you can hold me to.
Almost every online publication necessitates some kind of transaction between the publisher and reader. Either you have to accept the ads and affiliate links, or you have to pay to access the content, a model that has become popular with established publishers. I'm going to do everything possible to avoid the pay-to-read model, but I also hate ads. To make a living from Trail & Crag, I will rely on affiliate partners and sponsors, but then I will always make sure that in the exchange – your attention for my content – you always get more than you give up. How do I did that? By creating the best content possible, inserting affiliate links only where it makes sense, and partnering with brands I believe in.
How does content sponsorship work on Trail & Crag?
I'm very selective about who I partner with and only offer sponsorship opportunities to brands I have faith in. In almost every case, I already own gear made by the brand and have been using it for some time. In most cases, I'm on the ninth pair of shoes, third pack, or umpteenth whatever it is. Because it's difficult to be objective when you have favourites, I have chosen to not write gear reviews, but I have written a dozen gear guides that explain how your needs should determine what you look for in a certain piece of kit. In these articles I mention my favourite pieces of gear and describe what I like about them.
What is the best way to follow me?
I have both a Facebook page and an Instagram profile for Trail & Crag, but I can only dedicate a limited amount of time to these. The best way to follow me is to sign up for my monthly newsletter, which includes a journal-style entry and links to recent blog articles in every edition. You can also find me on Strava by searching for Jean Paul de Villiers.