Forecast looking grey and wet? The rain doesn't need to put a damper on your weekend hiking plans. With a little preparation, you can enjoy the outdoors even in constant rain. These twelve tips will help you stay dry and warm in weather that'll keep fairweather hikers holed up indoors.
#1 Know how rain will affect the trail
In addition to packing and wearing the right gear, you should also find out if the trail you intend to hike will be affected by rain. Rivers can flood, and technical steep sections can become treacherous when wet. Get some local knowledge if venturing into an area for the first time.
#2 Think carefully about where you pitch your tent
Where you choose to pitch your tent can make the difference between a sound night's sleep and a cold wet ordeal. Before setting camp consider the terrain and how it will be affected by water and wind. If there's any chance of rain avoid pitching your tent in a depression or a flood plain. Likewise, you should avoid exposed ridges if strong wind or electric storms are a risk. I go into these and other considerations in my article How to Choose a Campsite.
#3 Keep wet gear out of the tent
Having wet gear in your tent leads to damp sleeping bags and puffies. And nobody wants that. Wet packs, boots and jackets should be kept under the vestibule (certainly a factor to consider when choosing a tent. If there is not enough space, you should consider packing and rigging a light tarp to put your gear under. This can also be useful for hanging wet clothes and other wet items that need an opportunity to dry.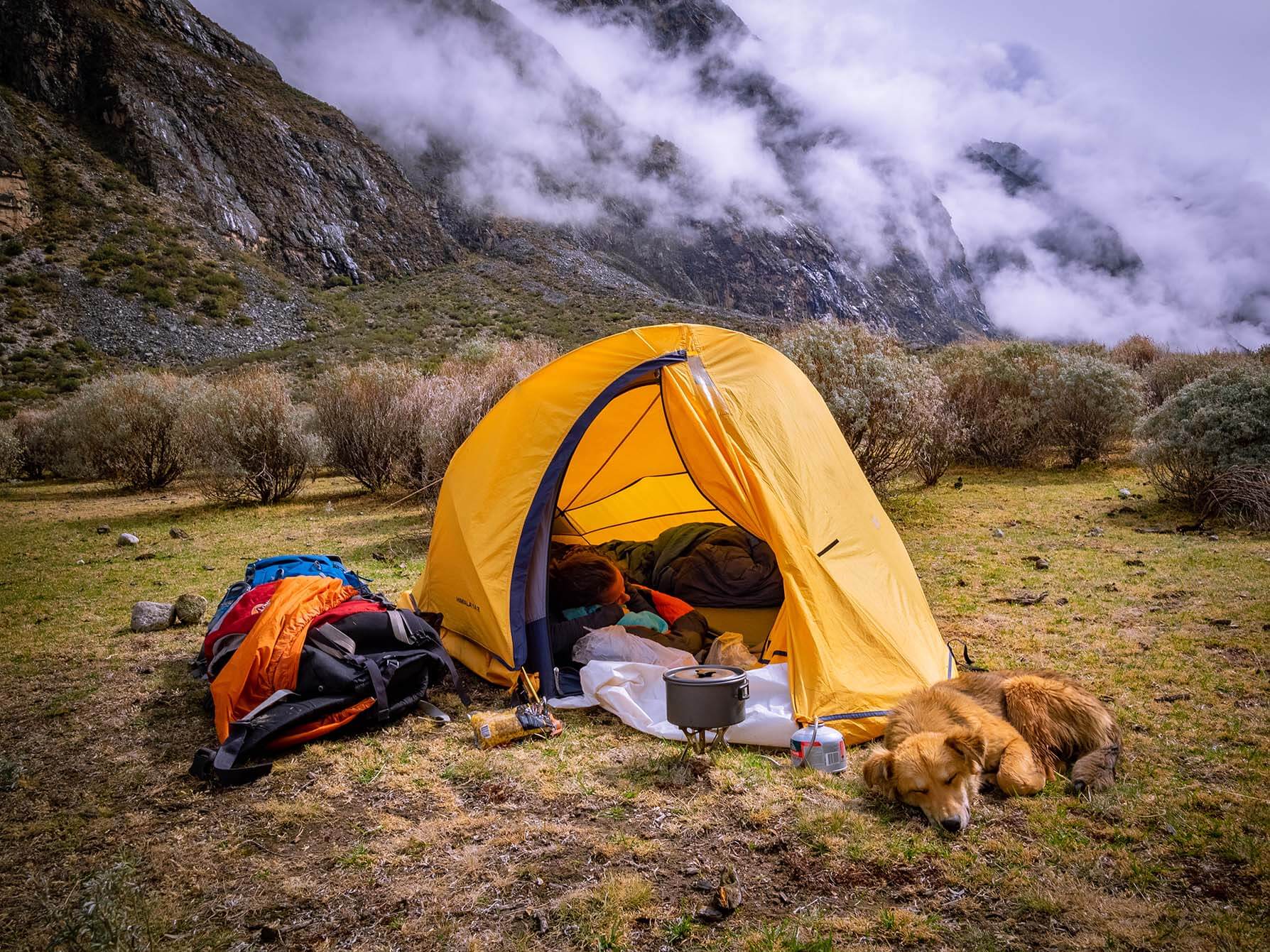 #4 Pack handwarmers
Waterproof gloves aren't really a thing, so the best way to keep your hands warm are with single-use chemical hand warmers. Instructions vary slightly from product to product, but generally they involve you shaking the packet to activate chemicals, which produce heat  that lasts for hours. Besides lifting your spirits and thawing out frozen extremities, these can also be useful for drying wet clothes and shoes. Popular brands include Little Hotties and Grabber Warmers.
Tip: Putting hand warmers in your boots or shoes will help them dry out overnight.
#5 Waterproof your pack
Most backpacks aren't fully waterproof. To prevent a non-waterproof pack from wetting through in heavy rain, you can take one of two approaches: cover it with a rain cover (some packs have these built in) or put the contents of your pack into some kind of waterproof bag. Many budget-conscious hikers line their pack with a refuse bag, but a light drybag will offer better protection. By vacuum sealing your clothes inside a dry bag , you can also save precious space.
#6 Put your map into a ziplock bag
Many store-bought topo maps are waterproof, but if you're going to use a print-out or some other kind of water-sensitive paper document, you should keep it in a ziplock bag. The same goes for any valuables and non-waterproof electronics: cell phone, wallet, car keys and spare batteries. Most GPS units and headlamps are waterproof (or at least splashproof), but you don't want to finish a long hike to find that your electronic car keys no longer work.
#7 Pack your rain gear where it's easily accessible
When it starts to come hammering down, you'll want to be able to get to your rain gear in a hurry. Pack your backpack in a way that makes it easy to access your rain jacket and pack cover (if not integrated). If your pack has an external pocket (not the pack lid), I suggest that you dedicate this to your wet weather gear. This way it won't dampen other gear when you put it away while still wet. Note that you should dry out wet gear at the earliest opportunity to avoid mildew.
#8 Reapply DWR to older waterproof layers
Over time, your waterproof jacket and pants will lose their ability to shed water. When the waterproofing starts becoming less effective, it's time to renew your Durable Water Repellent coating. If you have a new jacket, you can prolong the life of the garment's DWR by occasionally washing it (with technical fabric wash). Washing won't strip away the garment's DWR as some may suspect. In fact, washing can actually help outerwear retain its waterproof properties by removing contaminants (like sunscreen and smoke) that would otherwise damage it.
#9 Wear hard shell jackets and pants with vents
In constant rain, the outer layer on a hard shell will inevitably wet out. And that makes a jacket a lot less breathable. To avoid becoming very hot and sweaty, you'll need to open the pit zits. These should be amongst the first features to look for in a waterproof hiking jacket. Similarly, hiking pants should also have vents if you're worried about working up a sweat. Alternatively, you can choose a pair of convertible pants with zip-off legs.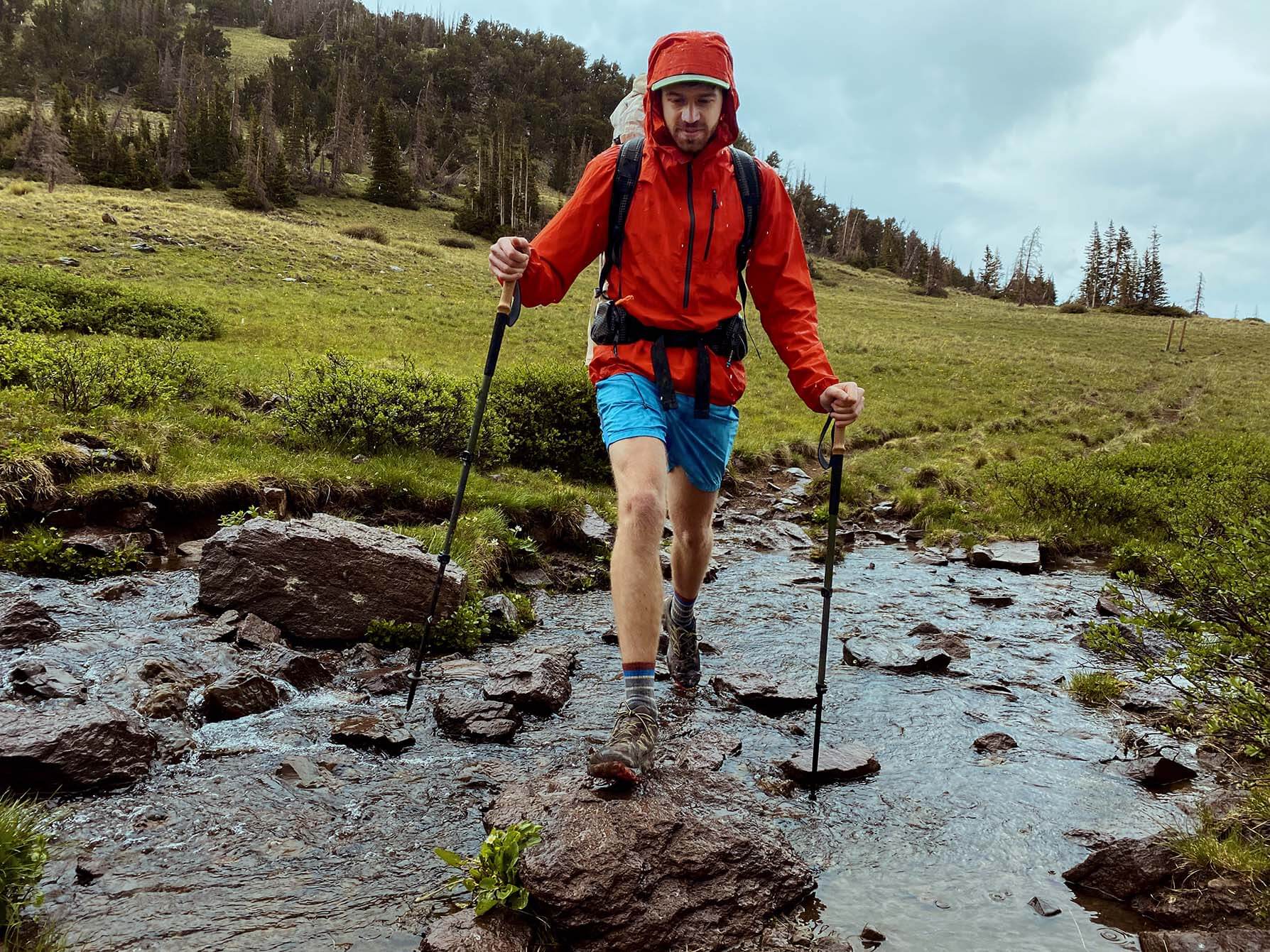 #10 Avoid cotton
Cotton holds water and so is not the ideal material to have next to skin. Rather go with quick-drying synthetics like polyester or nylon, or wool, which retains some of its insulating properties even when wet. And don't think that cotton briefs or bras are okay either. If search-and-rescue workers believe that hypothermia is a possibility, your underwear will be among the first things to be cut off (something to consider if you want to keep your dignity).
#11 Only wear synthetic or wool insulating layers
A synthetic insulating layer like a midweight fleece is essential when everything is cold and wet. Down doesn't insulate well when wet, and even though a puffy jacket with synthetic fill, like North Face's Thermoball, will retain heat when damp, the best approach to staying warm on a hike is to layer. This will allow you to better regulate your temperature and to avoid working up a sweat, which would eventually make you cold. MERINO WOOL
Tip: Avoid hiking in your down jacket. Rather, keep it dry so that you have something warm to put on at the end of the day.
#12 Keep one set of dry clothes aside for camp
On overnight hikes, keep one set of dry clothes in your pack until you get into camp (and under cover). That way you will have something dry and warm to wear at the end of the day. When your body's engine starts to slow and cool, you will have something dry to wear – an important tactic if you think it's unlikely that you'll be able to dry out wet clothes.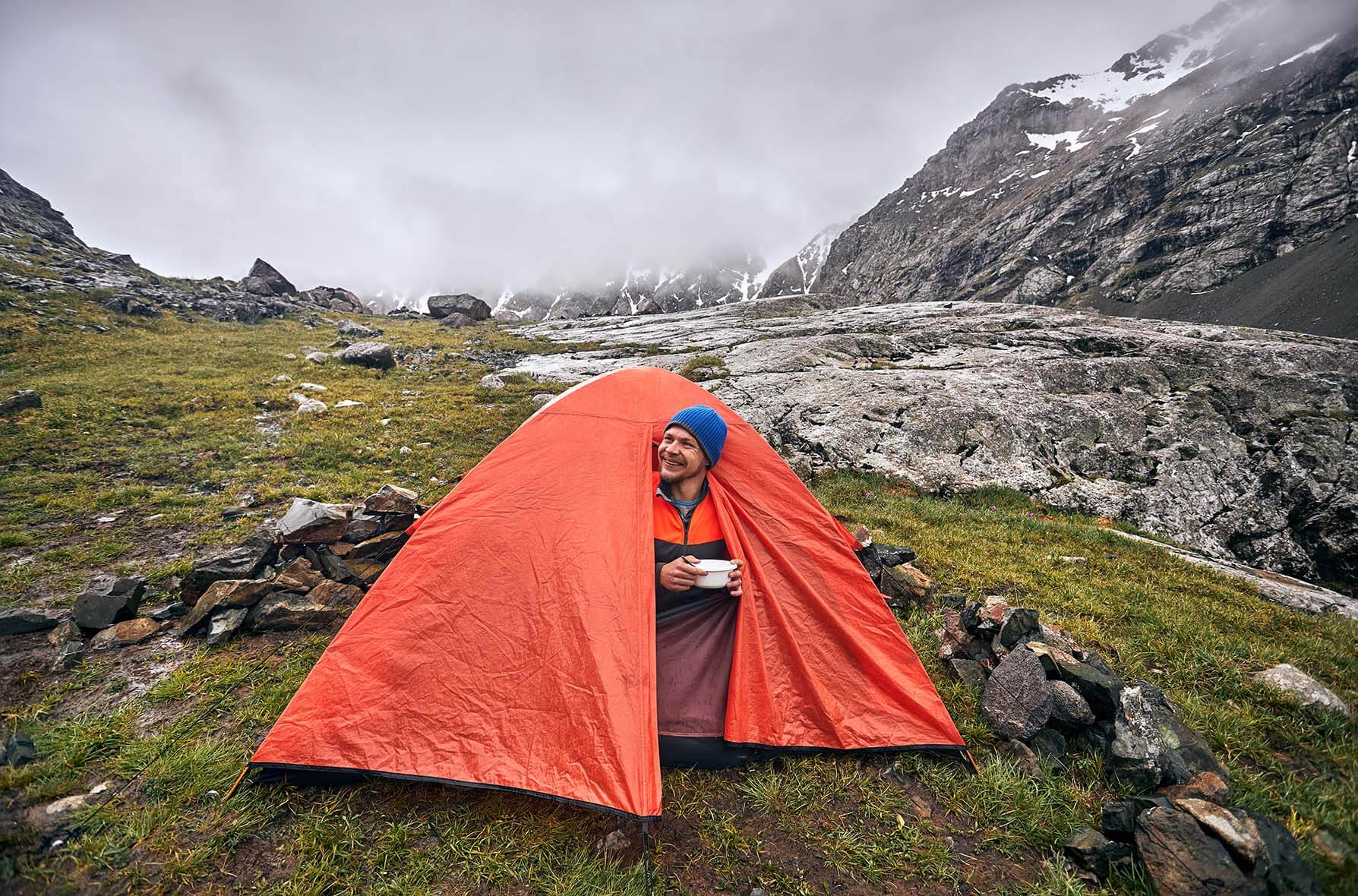 #13 Take precautions against blisters
Wet feet are more blister-prone, and if you plan to hike in the wet, you should take extra precautions. Treat any hot spots right away by covering them with a padded blister bandage, Moleskin or tape. If these worsen, you can help prevent further chaffing by cutting a blister-size hole in a piece of Molefoam and then placing that around the blister to guard against contact with the shoe. See my blog article on blister prevention and treatment for more detailed instructions.
Tip: Waterproof gaiters can help if you are taking the keep-feet-dry at all costs approach.
#14 Rethink your choice of footwear
The hiking boot vs shoe decision is a tricky one: boots are more waterproof and can keep your feet warmer, but if they do get wet inside (and in very wet weather, they eventually will), they'll be slow to dry out. Trail shoes, on the other hand, will soak through faster in very wet conditions, but they'll also dry out quicker and won't be quite so heavy when waterlogged. My recommendation is that unless you need the additional support of boots, it's better to go with hiking shoes when conditions allow for it – anything except slushy snow or freezing temps
#15 Gaiters
Gaiters are great for protecting your lower legs from vegetation when hiking off-trail, but they are also very useful for keeping out water and mud in wet conditions. Consider these a must if your goal is to keep the insider of your boots dry (possible if it's not very wet). If you are wearing non-waterproof long pants, a pair of gaiters can also stop your pants from getting wet when you hike through wet vegetation.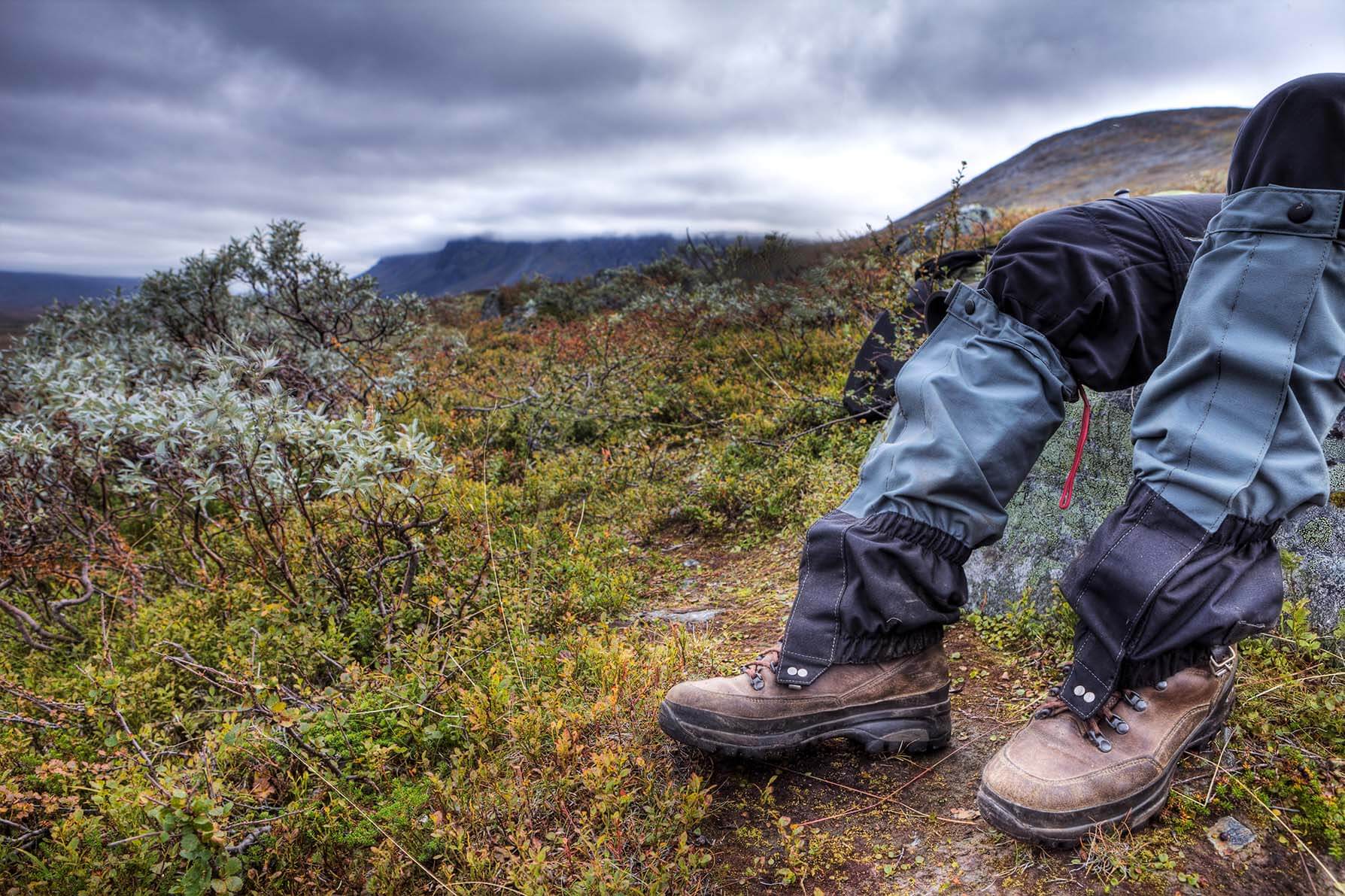 Get out there
The best way to hone your wet weather hiking skills is to get out there and put them to work. Only the elements can really test your preparedness. That said, if it's further instruction you're looking for, this site has many more hiking and backpacking articles filled with pointers, practical tips, and valuable insights. If you are new to backpacking, see my articles on essential backpacking skills and what to pack for an overnight hike next.