If I'm going out for more than a short spin, I carry an assortment of gear that can help me get out of a jam if something breaks. This kit can vary depending on the length, remoteness, and conditions of a ride, but generally I pack gear according to one of two lists: one for essential items that I'd take on a regular full-day ride and another for the kit I'd take on a full backcountry epic. If you are starting to ride longer or more remote trails, having a similar kit (and knowing how to use it) can make you more self-sufficient and give you the confidence to push your boundaries.
For your regular full-day ride
1. Tubes
Even if your bike is tubeless – which it should be – you should still carry a tube. Your tire could become unseated (less likely with the right tire-rim combo) or get a sidewall slash. In both cases the solution is to fit a tube. If you are going into the back of beyond or are riding solo, it would be best to carry two tubes. Tip: a 27.5 inch tube will also go into 26er and 29er wheels – useful when riding in a group with mixed wheel sizes.
2. Patches and glue
If you are having a really bad day, you might unseat your tubeless tire, fit a tube, and then get a puncture in this as well. If you didn't have a second tube, your only remaining solution would be to patch the tube. Store-bought tube repair kits will contain patches, glue, and sandpaper – everything you need. Just check the glue occasionally to make sure it hasn't hardened.
3. Brake pads and spring
If you wear through your brake pads during a ride, you'll need a spare set to get you home. But these don't have to be new. A pair of pads that are 70 - 90% worn will fit perfectly between the callipers and brake disc with little to no brake adjustment. I zip-tie the spring and pads together and keep these in my tube repair kit along with other small items. If you have older brakes that use a retention pin (not a bolt), you should carry a spare one of these too.
4. Quick link
If you shifted your gears at the wrong time – on a pedal stroke – you could break your chain. To get your bike running again, you would have to remove the broken links and replace them with a quick link (also known as master link). This repair will shorten your chain, which can reduce your gear range and limit the shock stroke on a full-suspension bike. Fortunately, there is a workaround, which I explain in my article on trailside repairs. 
5. Chainring bolt and cleat bolt
Chainring bolts occasionally shear off or rattle loose. Keeping a spare in your pack will allow you to continue on with your ring firmly attached to the crank. To avoid losing smaller items like bolts, I keep them in my tube repair kit, which comes in a case that is almost always larger than it needs to be. 
6. Shifter cable
There are several ways to deal with a broken shifter cable, but the best way is to simply replace it as this will allow you to carry on riding normally. Yes, if you do routine maintenance, you're unlikely to break a cable, but at a weight of just 25 grams (1 oz) this insurance will cost you very little. SRAM and Shimano cables are interchangeable, so you'll be able to help out a less prepared rider even if he is on a bike with a different groupset.
7. Tubeless plugs and valve core
At the very minimum, your tubeless repair kit should include some of the stringy rubber plugs known as slugs and an applicator or reaming tool. If you don't already know how to use these, see my article on how to repair a tubeless tire. In addition to these, I also recommend carrying an extra valve core in case one of those in your wheels gets gunked up or damaged. My preferred tubeless repair kit conveniently combines all of these in a single capsule.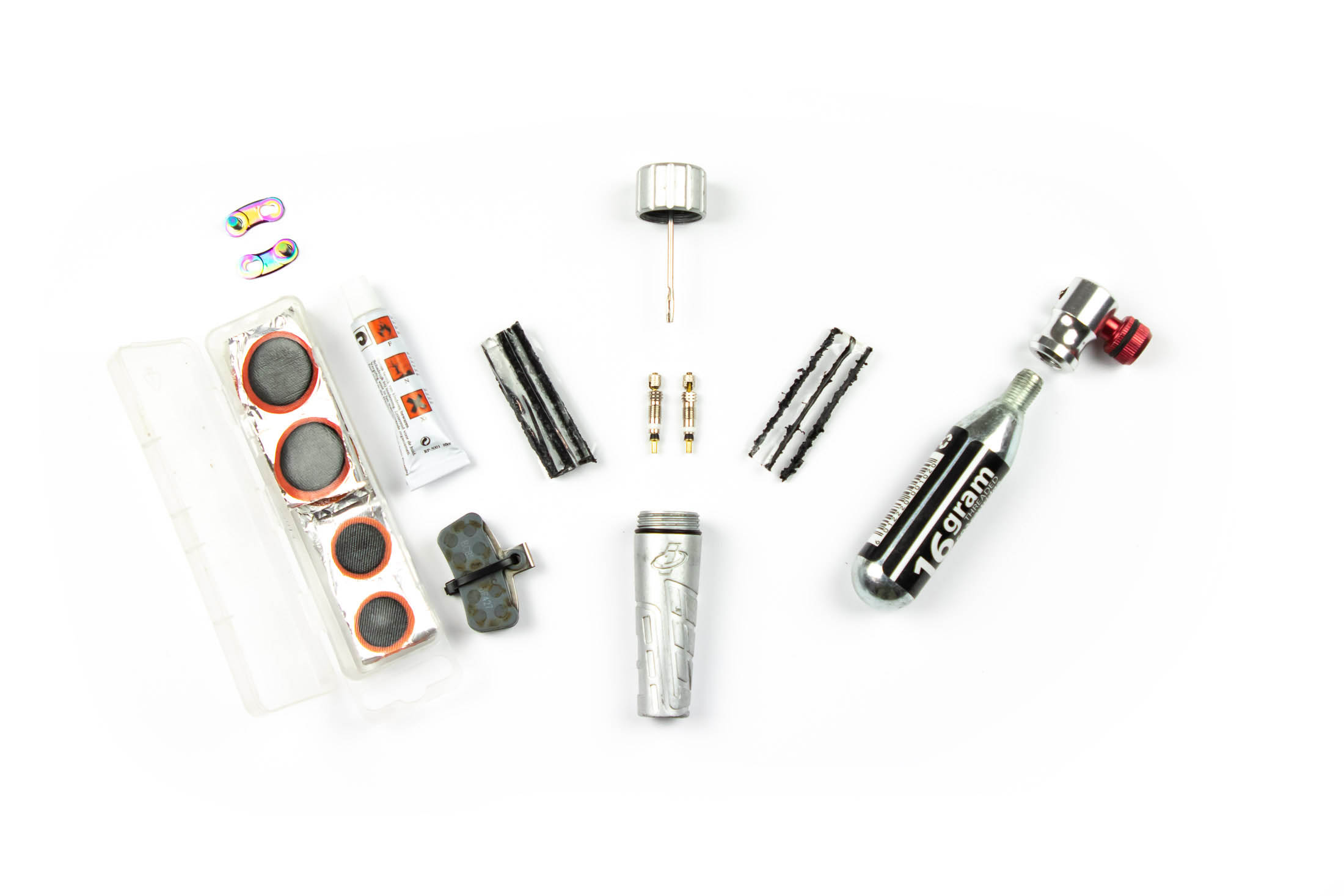 8. Tire boot
For torn sidewalls, the standard trail fix is to fit a tube, but first you have to close the hole to prevent the tube from bulging through the sidewall when you inflate it. In a pinch, you can use a gel or bar wrapper, but a tire boot like that made by Park Tools will be easier to apply and will likely be more durable – even if this fix is only intended to get your back to the trailhead. 
9. CO2 pump and cartridges
The truth is that a CO2 pump isn't essential. But it will allow you to fit and inflate a tube faster if your riding buddies are getting impatient. Just think twice before inflating a tubeless tire with CO2. Some sealants harden when exposed to carbon dioxide, and if you're not sure how the sealant in your tires will react, it would be better to use a hand pump. Like most riders, I carry two cartridges. 
10. Mini hand pump
One of the most important items on this list, your hand pump needs to be reliable, so choose wisely. A quality pump with a solid valve connection will give you years of service if you replace the O-rings regularly. Only consider pumps that are designated as high volume as these will fill a large tire faster. There's no need to give yourself a forearm pump by just inflating your tire. 
11. Tire levers
Many multi-tools have a tire lever built into them, but these are generally not as useful or as well constructed as standalone levers. To save yourself the frustration of having to unseat and re-fit with the wrong tool, carry a pair of dedicated tire levers. These will weigh around 17 grams (0.6 oz) but will be worth their weight in gold when you find yourself 30 miles from the trailhead with a torn sidewall. 
12. Trail tool with chain breaker
There are many multi-tools on the market, but don't consider any that don't have a built-in chain tool – unless you're willing to carry a separate chain tool with you. In addition to a chain tool, a versatile multi-tool will also have a T25 torx wrench, flathead and Phillips screwdrivers, and 2.5, 3, 4, 5, 6 and 8 mm allen keys, and the most common spoke tool sizes. It pays to practice all common trail repairs at home so that you can check that you have all the necessary tools in your kit.
13. Electrical tape
Like cable ties, electrical tape can be used for a wide range of repairs. Of course, you don't want to carry a whole roll of tape with you, so I recommend you store a few meters on a CO2 cartridge. The adhesive will remain sticky even after you've wound it onto it's new 'roll', and if you remember to always use the other cartridge first, it might be years before you need a new CO2-tape roll.
14. Zip ties
Zip ties are useful for a dozen different repairs: to reattach brake levers, keep errant cables out of the way, close a shoe when a buckle breaks, or even convert your bike into a fixie when your hub freebody fails. I carry three, keeping them in a small ziplock bag with the shifter cable and tire boots.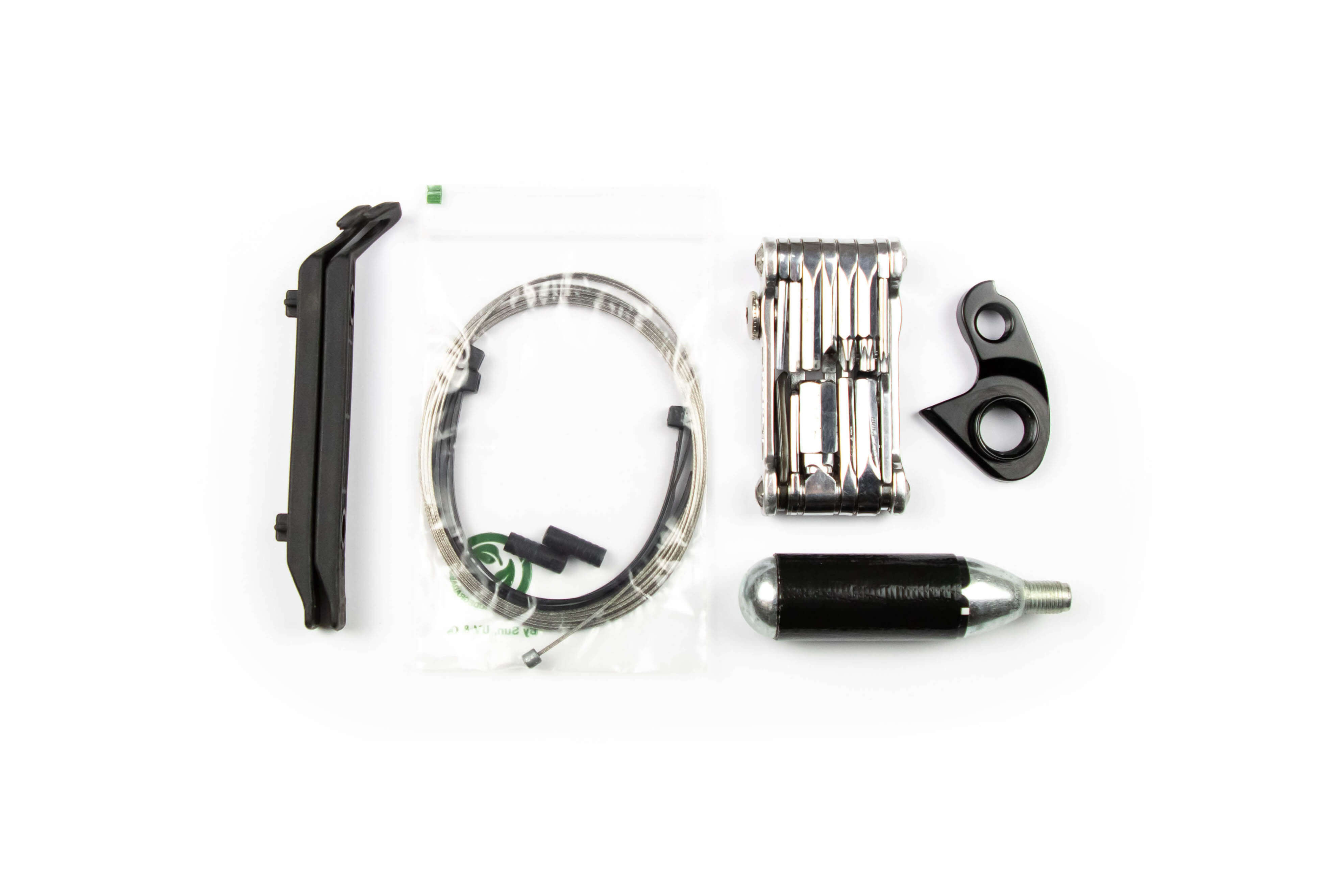 15. Derailleur hanger
Your derailleur hanger is designed to bend when roughly knocked, thereby saving your bike's frame from damage. Unfortunately, a hanger can also break in such an impact or may snap when you try to straighten it, and it's recommended that you pack a spare. I don't actually carry one since the derailleur hanger on my Banshee is almost indestructible – the derailleur will break long before the hanger. But if your bike isn't as bulletproof, this would make a worthwhile addition to your fix-it kit.
16. Map
Even if you have already downloaded a map onto your phone (for an app like Trailforks), it's still a good idea to carry a printed map. The maps produced by a local organisation will almost always contain more relevant and detailed information than those in an app and will be easier to read in bright sunlight – compared to your phone. If you choose to rely only on a printed map, it would be a good idea to put it in some kind of waterproof sleeve.
17. Phone
Every year there are dozens of emergency situations that could be avoided if the party in trouble just had a working phone. Make sure your phone is fully charged before setting off on a long ride, and then keep it in a neoprene cover if it shares a pocket or compartment with tools that could scratch it. Tip: Save all emergency contacts with the prefix 'AA'. That way, they will be the first numbers you see when you go into your contacts.
18. Rain shell
A ride in the rain can be a lot of fun if you are dressed appropriately. Not so much if you aren't. A light and packable mountain biking jacket will weigh under 300 grams and keep you dry in brief downpours or sustained lighter rain. If you call the Pacific NorthWest home, you'll obviously need something heavier and more weatherproof. Also, it would be a good idea to pack an additional warm layer (merino wool or synthetic) if you expect low temps.
19. Snacks
To keep those legs turning, you can choose from a variety of fuel sources: gels, chews, bars, and even real food – if a more moderate level of exertion allows for the digestion of more complex foods. Salty snacks are a good idea especially in hot weather when you run the risk of dehydration and need to replace both water and electrolytes at a faster rate. Alternatively, you can also use a supplement like Nuun's fizzies.
20. Sunscreen
A sport sunscreen should be at least SPF50 and protect you from both UVA and UVB rays. Besides that, look for a sunscreen that is easy to apply and safe to carry in a hydration pack. I usually prefer a stick as one of these is less likely to burst open in your pack, but for maximum protection – as you'd want for your nose, lips, and ears – a mineral sunblock is generally better. 
21. Microfiber cloth for cleaning eyewear
It's hard to enjoy a ride if you can't see where you are going. Keep your glasses or goggles clean by carrying a microfibre cloth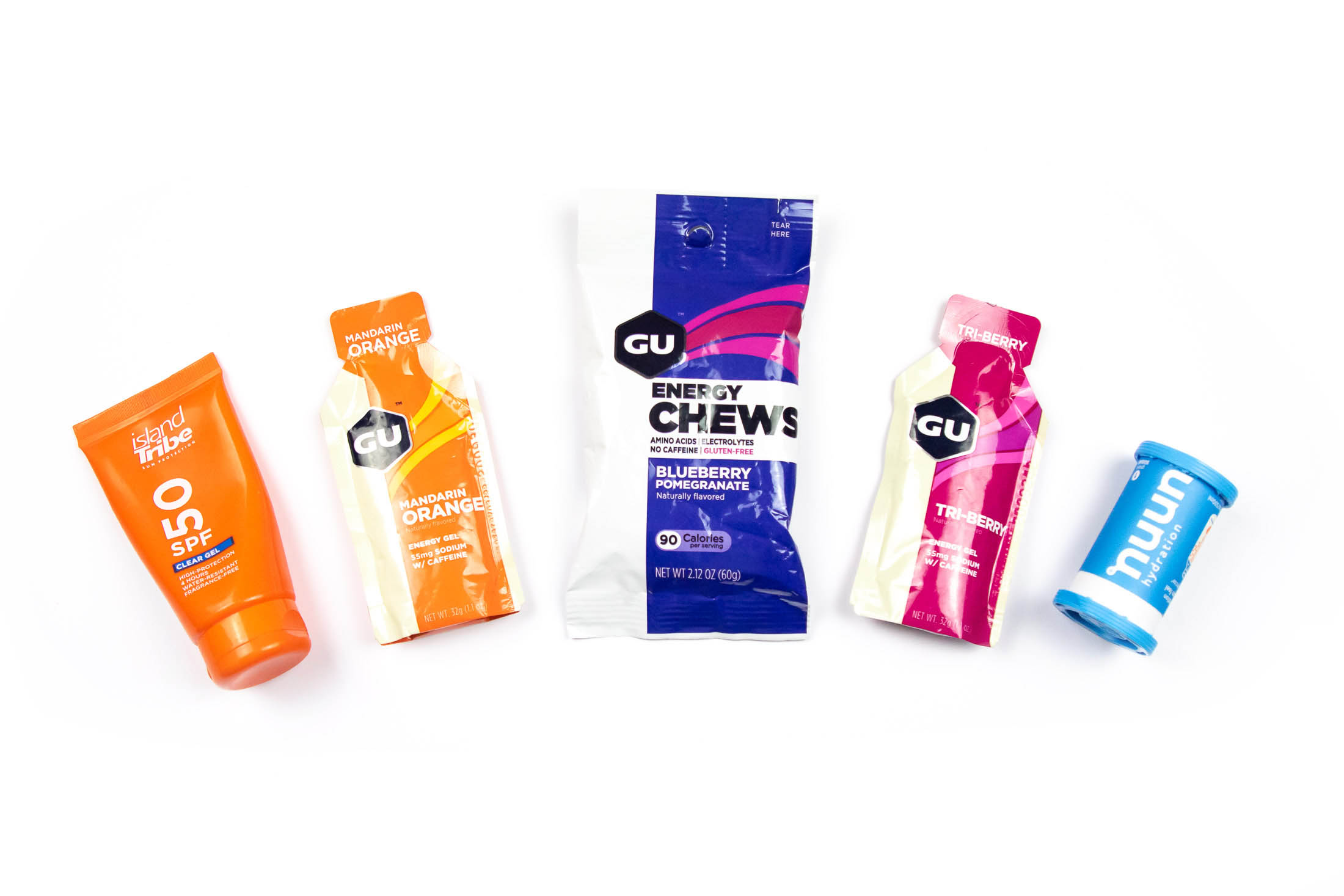 For a backcountry epic
22. Bike light
If there is any chance you could be out after dark, pack a bike light. Those powerful enough for mountain biking will throw around 1200 lumen. Your light could be bar-mounted or helmet-mounted, but a helmet-mounted light will be better for navigating twisty trails, reading a map, or searching for a piece of kit in your pack. A tail light is also a good idea, especially if you might have to use roads or popular cycle paths.
23. Satellite messenger
Go far enough and you will eventually lose cell signal. When that happens, the only way to make contact with the emergency services and contacts is with a satellite messenger. Smaller messengers, like the Garmin InReach Mini, enable two-way text messaging and allow you to send an SOS message with your location by just pushing a button. You will need to sign up for a monthly service subscription, but then you can venture into the backcountry confident that communication lines will always be open.
24. First aid kit
I don't usually carry a first aid kit on rides that take me only a few hours from the car, but I always pack one for backcountry missions. Contained in a bag no bigger than 11 by 14 cm (4 x 5 in), this light and compact kit includes essentials for dressing minors wounds and medication for treating common ailments. You can find the full list in my article What to put in a packable first aid kit. Don't rely on a store bought first aid kit until you have checked that it contains everything you need.
25. Emergency bivvy
A space blanket will block the wind effectively, but it won't be very good for trapping heat. If you find yourself having to keep an injured rider warm or having to bivvy because you hesehave gotten lost in the dark, the best thing for staying warm is an emergency bivvy bag. Made from the same material as space blanket, emergency bivvies are still very light and compact, but because they're shaped like a sleeping bag, they're much better at retaining heat. Still, if you think you could be out after dark and in cold temps, pack a warm layer.
26. Shock pump
You shouldn't be tuning your suspension on a big ride, and you're unlikely to need a shock pump to top up a leaking shock (modern shocks are pretty reliable). So, I consider this a low priority item. Still, some riders prefer to carry a shock pump on long rides especially when they are riding with a big group and there's a higher chance that someone will need help with a mechanical failure.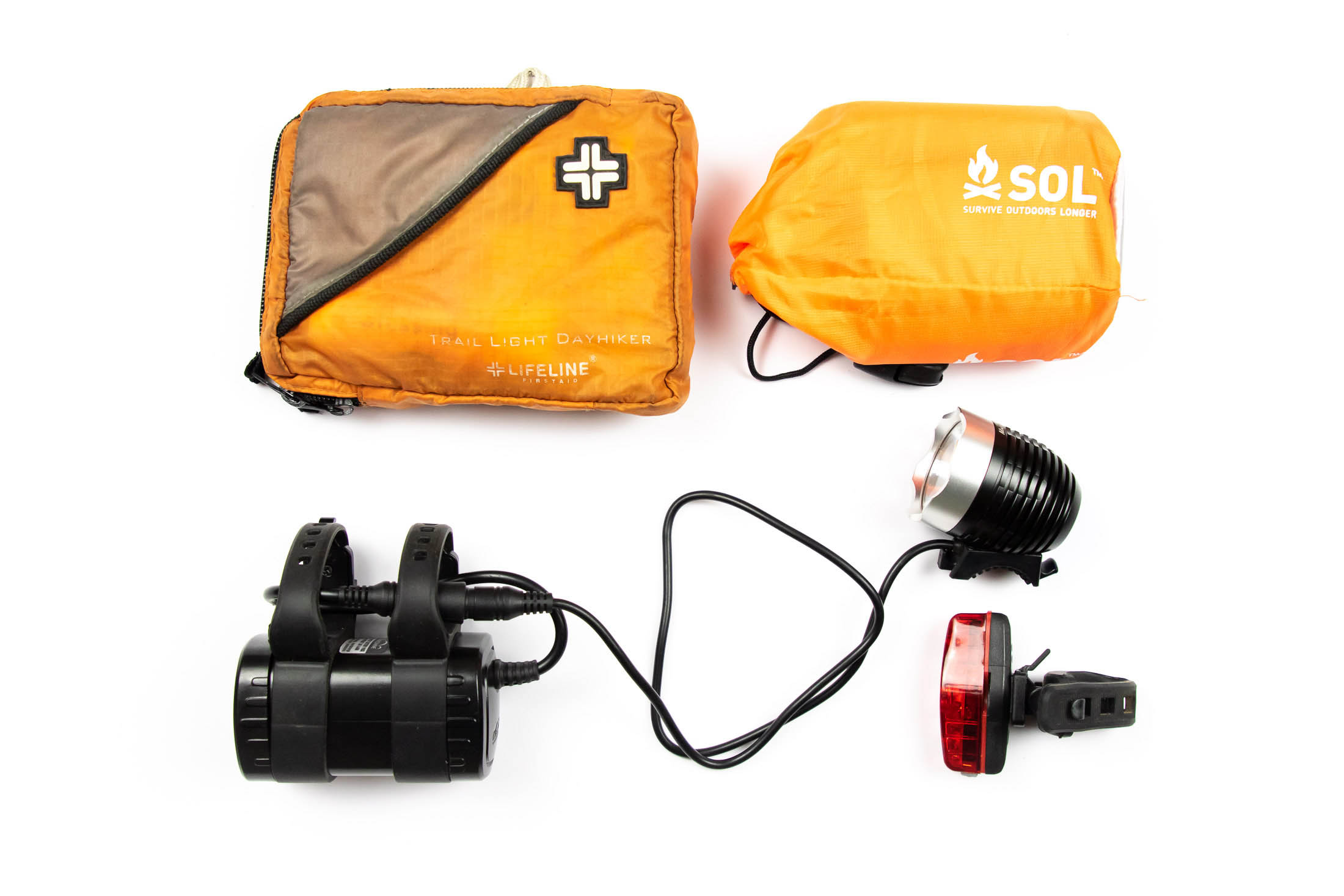 Choosing a pack
For shorter rides you might be able to get away with a waist pack or smaller backpack, but for long rides you'll need something with a capacity of around 15 to 20 litres. I only recommend mountain bike-specific packs – the kind that holds a 3 liter hydration pack and features several pockets for keeping your tools safely stowed and organised. If you ride a trail or enduro bike and like to ride hard, you should also consider a pack with a built in spine protector. See my article on mountain bike packs for more advice on this important purchase.