One of the attractions of trail running is that it requires little in the way of gear. Still, every outdoor activity requires some kit, and there are at least a dozen items that no seasoned trail runner will hit the trail without. In this article, I list those essentials and then mention a few extras you might want in certain circumstances. But first, let's start with the absolute basics.
Apparel
Shoes
Trail runners are generally beefier than road running shoes and are designed to offer greater grip on surfaces ranging from mud to gravel. But that's not to say that all trail runners are similar. Within this category, you will find a wide range of footwear, with general purpose trail runners sitting between stripped-down minimalist shoes and chunky off-trail shoes. The latter are not suitable for running, and the former should be approached with caution. My article on how to choose trail runners goes into these differences in more depth.
Top
Few activities can bring on a sweat like running, and trail running apparel needs to be made of a moisture-wicking synthetic or merino wool if it's going to help you stay dry. In warmer weather, you'll only need a t-shirt or maybe a long sleeve UPF shirt to ward off harmful UV rays, but colder temps could call for a baselayer top or even a midlayer like a light fleece (kept in your pack until you really need it). See this article for more in-depth advice on how to layer.
Pants
Trail runners wear shorts or tights depending on the weather. For warm weather runs look for a pair of shorts with integrated mesh boxers or liner as these will help wick away moisture and prevent chafing. In colder temperatures, tights will do a better job of retaining heat. These are available in a variety of lengths and can be worn with shorts (the norm among guys) if you'd prefer your pants to be not quite so revealing. Both running shorts and tights are designed to be worn without underwear. Like your top, your pants should be made of breathable, moisture-wicking synthetics. Cotton is a no-no.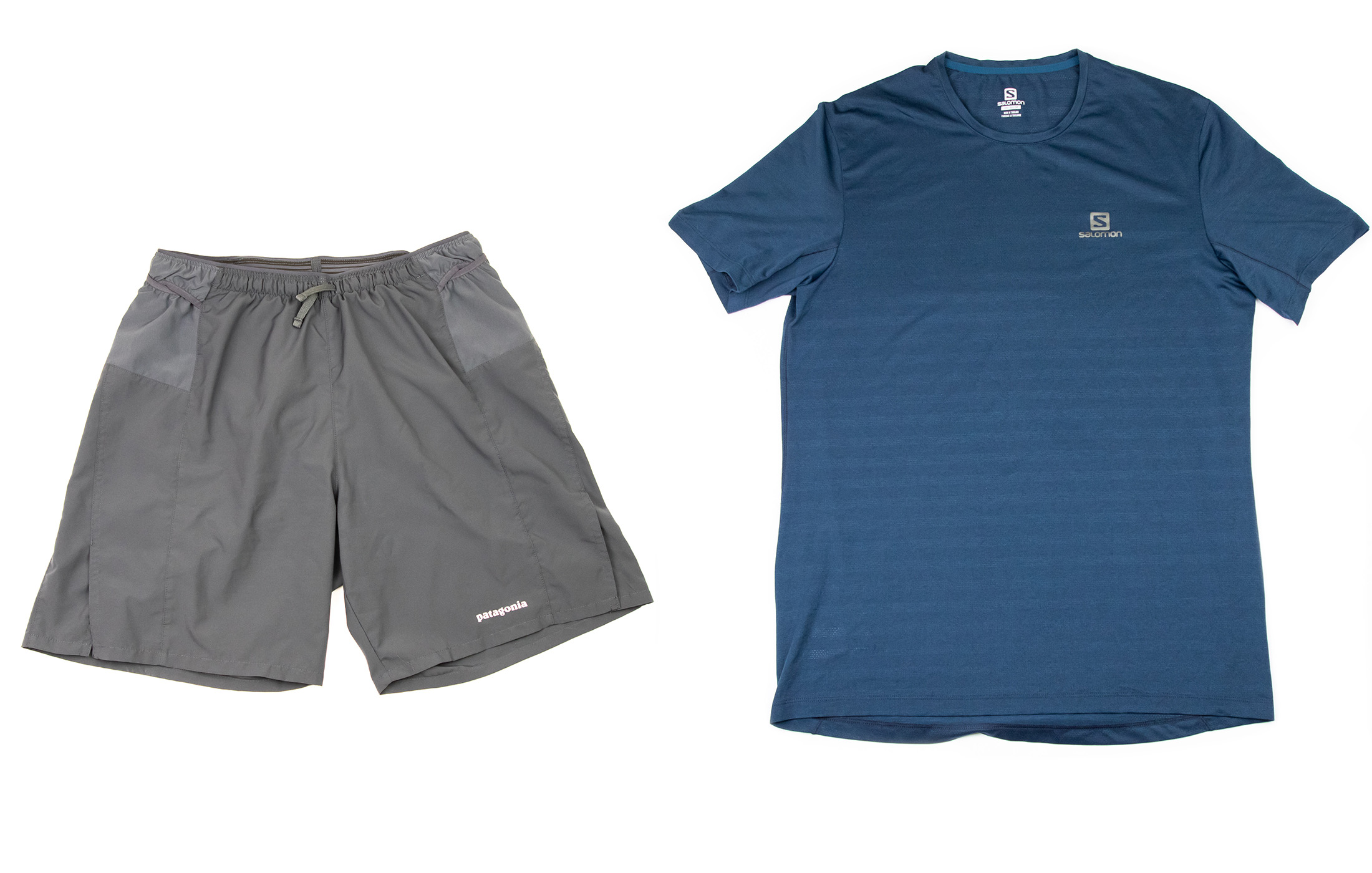 Underwear & socks
Socks and jocks (if you wear them) should also be made of merino wool or a quick-wicking synthetic that offers next-to-skin comfort. It's also important to look at the seams when choosing active underwear. You don't want thick seams, which will contribute to chafe. This is especially true of briefs, and it's for this reason that many runners prefer shorts with integrated mesh boxers.
Hat
Unless you're running in a forest or under a heavily overcast sky, you'll need a hat to keep the sun off your face. Trucker caps have become popular in recent years, but lightweight running-specific caps are more practical. Many designs incorporate mesh panels to increase ventilation, something you'll be thankful for when temps soar. In colder conditions you might want to pair your cap with a Buff to keep your ears warm, and in very cold conditions, you might want to go with a merino wool or microfleece beanie.
Sunglasses
Sunglasses serve the dual purpose of protecting your eyes from unseen branches and UV rays. Ultraviolet light increases with altitude, and at an elevation of 9,000 feet you are exposed to 27% more UV rays than you would be at sea level. The point is that sunglasses are especially important if you plan to run in the mountains. Wrap-around polycarbonate shades with a UVA/UVB label will give you the greatest amount of protection, but also consider fit and comfort. You don't want them to jiggle around on your face.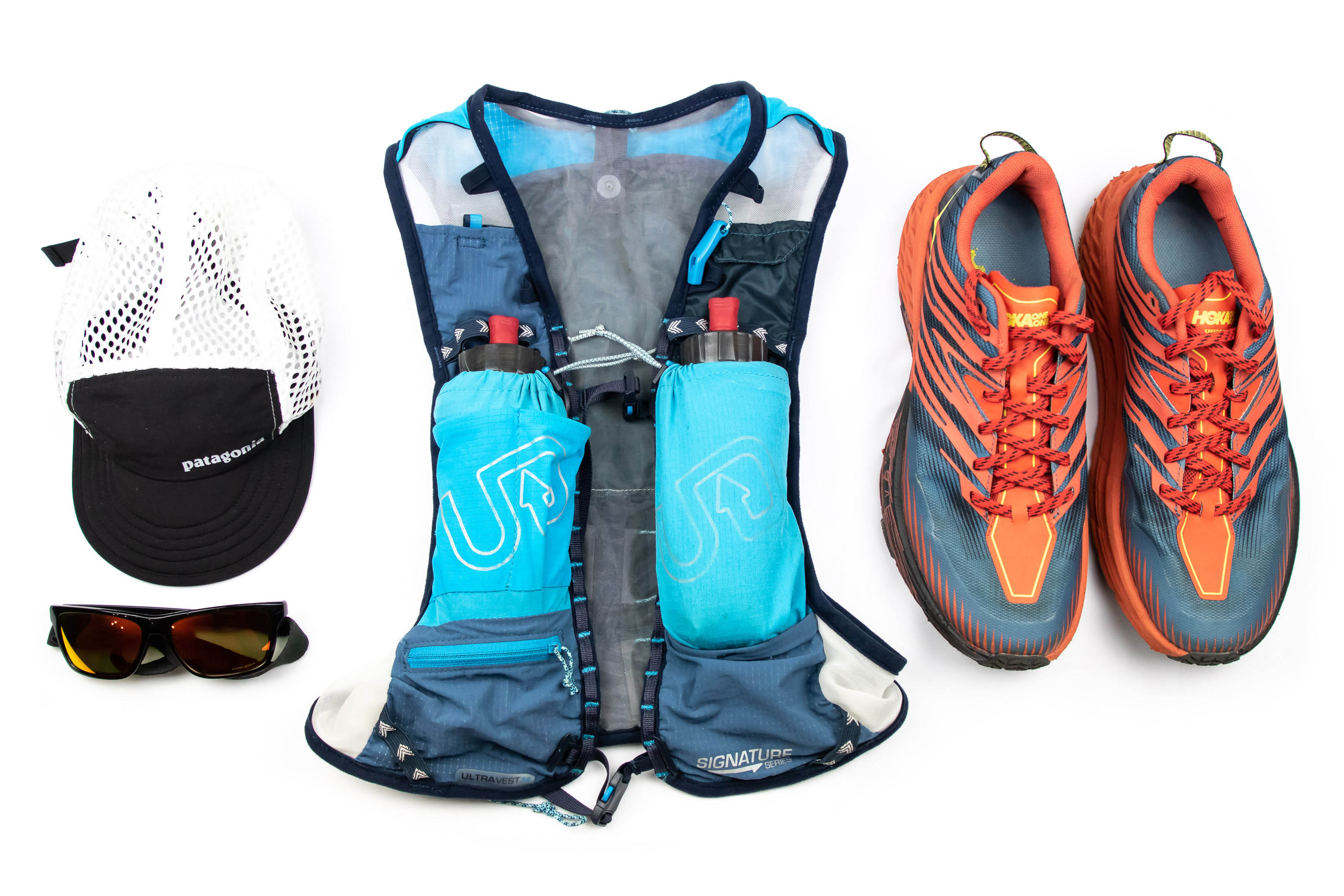 Vest or pack
There are several different ways to carry water: a hydration pack or vest with a reservoir or water bottles, a waist pack with bottle, or handheld water bottles. On shorter runs and those where you can refill, just a water bottle or two will do. But on longer, more intense runs with few or no options to refill, you'll need a hydration pack with a reservoir (maybe a few bottles too) to carry enough water and the kit listed below. There are pros and cons to both bottles and reservoirs, and I recommend doing a little homework before committing to a hydration system.
In your pack
On runs through remote wilderness areas, self-sufficiency is crucial. To prepare themselves for everything that nature can throw at them, experienced runners will pack the following adventure essentials:
Blister kit
Most runners are unlikely to carry a first aid kit, given the limited capacity of the average running pack. But a blister kit is light and small enough to fit in even the smallest packs and still contains everything you need to treat the most common of running ailments. See my article on how to treat blisters for instructions on how to compile your own blister kit. And, if you can, err on the side of caution and carry a light first aid kit and emergency bivvy on longer runs into more remote areas.
GPS, map & compass
When exploring unfamiliar areas, you should carry some kind of navigational aid. A GPS watch, handheld GPS, or phone can make it easy to plot and follow a course, but there's a danger in relying on technology. Batteries die, screens break, and, in the case of phones, cell signals fade. A well-prepared runner carries a map and compass – and knows how to use them – even if he's wearing a GPS watch or carrying a handheld unit. To acquire some reliable old school navigation skills, see my article on orienteering.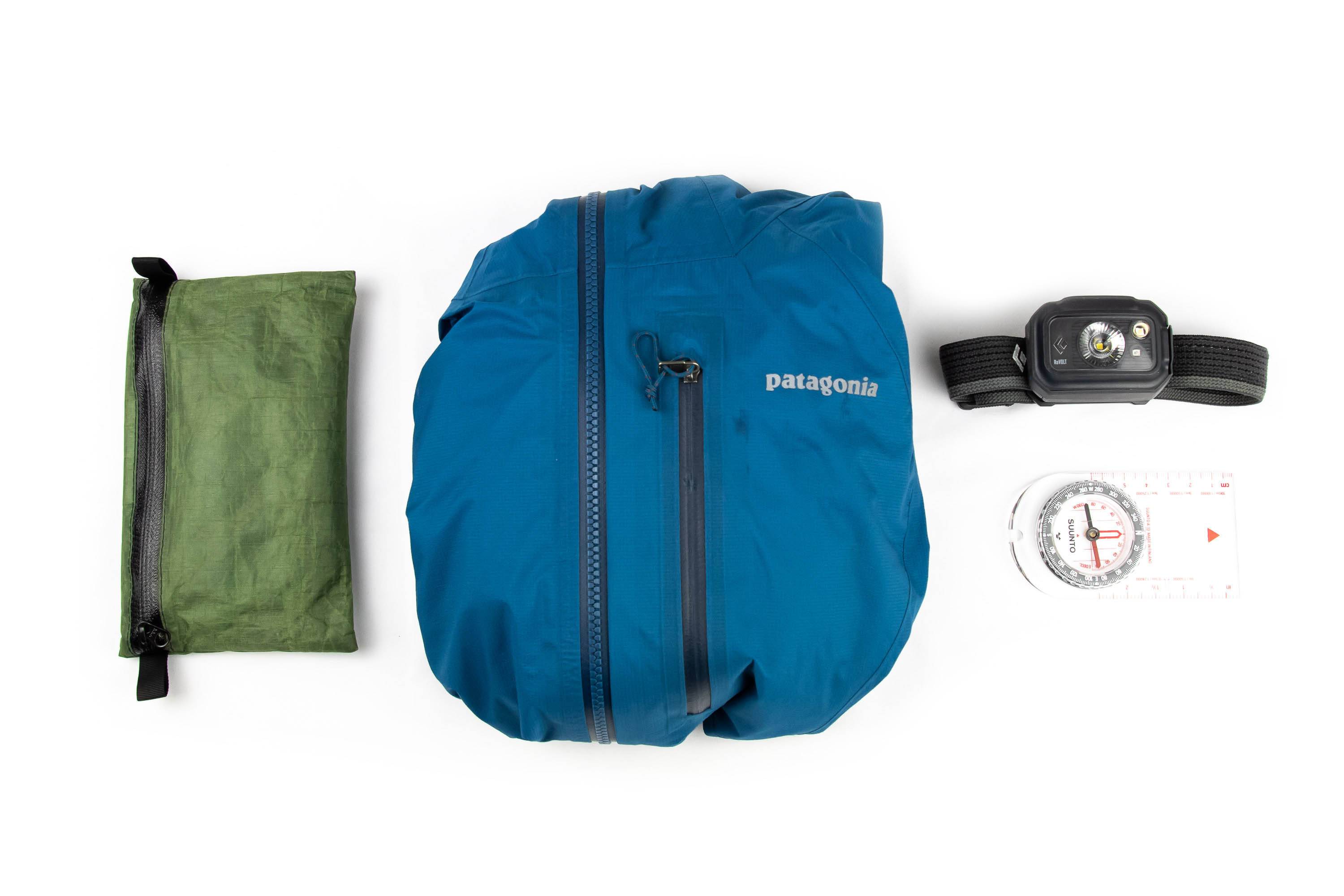 Headlamp
If there's any chance that you could find yourself running in the dark, you should pack a headlamp. Those few extra ounces can make the difference between a pleasant nighttime jaunt and a dark and frightening ordeal. 200 lumens might be enough for road running, but it's better to have a brighter light – at least 300 lumens – for the trail running. You'll need the extra illumination to give shape to rocks and roots that otherwise might trip you up. And if you're going to run in the dark regularly, get a rechargeable light. The money you save on batteries will offset the extra cost of the headlamp, and you'll keep those spent AAA's out a landfill.
Extra layer or rain jacket
Running jackets come in varying degrees of weatherproof, from lightweight shells to heavy-duty outerwear. A light shell (140 - 200 g / 5 - 7  oz) will provide a thin, water-resistant layer between you and the elements, but it will soak through during extended use in the rain. A fully waterproof jacket (250 - 36 g / 9 - 13 oz), on the other hand, will help keep you dry even during long runs and in downpours. The most versatile jackets will be somewhere between these two extremes. Look for hoods and pit zips that can help control heat retention and ventilation.
Provisions
Electrolyte supplement
To stay properly hydrated, it's not enough to just replace lost water. You also have to replace lost electrolytes – essential minerals responsible for proper muscle and nerve function. These salts and micronutrients are lost through sweating and have to be replaced roughly at the same rate of loss to avoid the adverse effects of dehydration. Most sports drinks contain enough electrolytes to meet this need, but if you refill your bottles or reservoir with pure water, you will need to add some electrolyte supplement to your H20. Nuun is a popular brand and my favourite.
Food
You're probably not going to eat anything on a short run, but if you go for longer than 90 minutes, you'll want to replenish depleted glucose stores. 100 – 200 calories an hour is ideal, but the trick is finding food that will sit well in your stomach during a run. Easily digestible gels and chews can help you get your blood sugar levels back up towards the end of a short run, but on longer runs you'll need food with a more moderate glycemic index. Bars and light sandwiches (like PBJ) will provide a steadier release of energy over a longer period.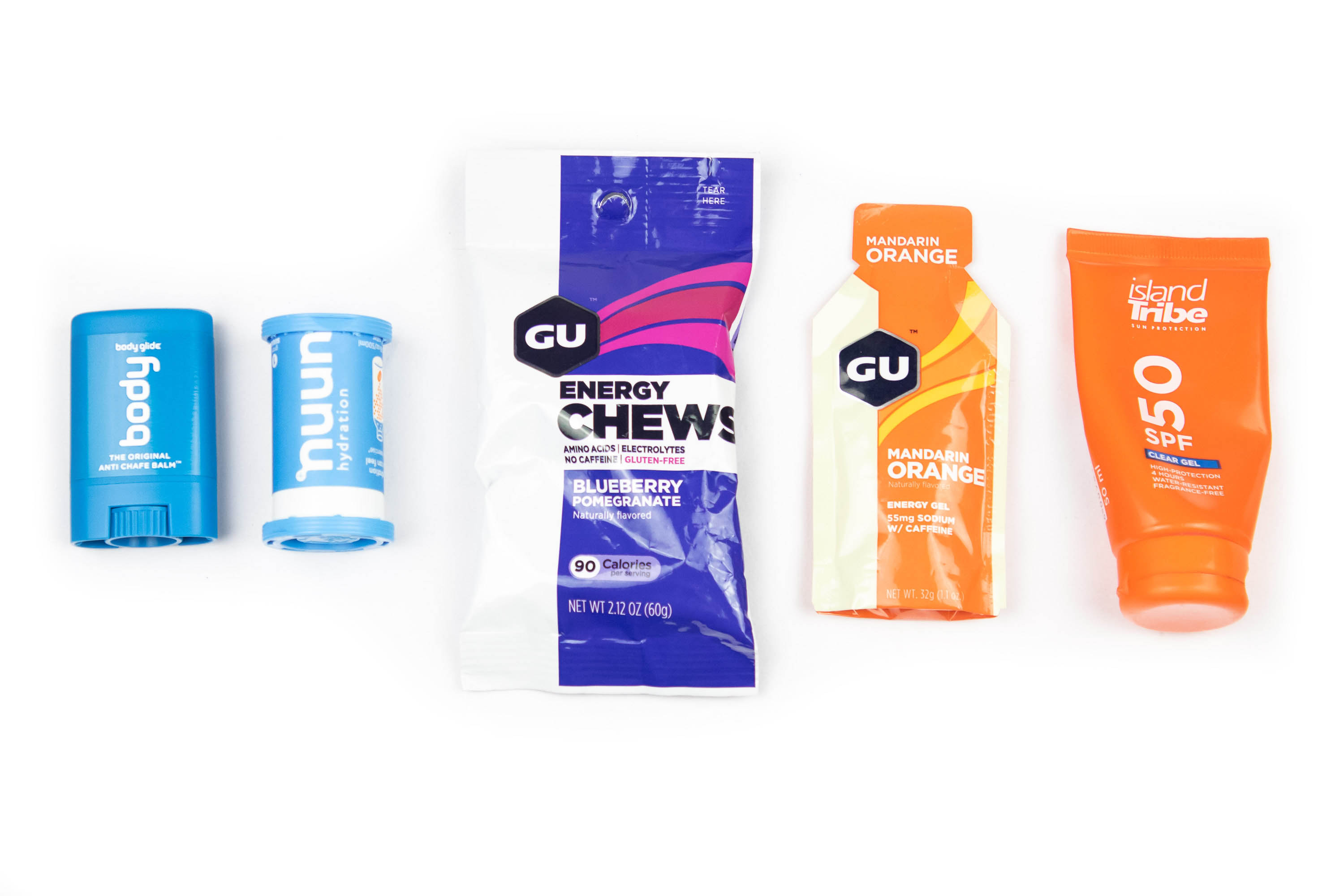 Balm/lube
Over the course of a run, your feet hit the ground thousands of times. With each of these impacts, your skin chafes against clothing, and not just those $30-dollar-pair socks. Fabric-on-skin chaffing can be caused by your shorts lining or your sports bra. To reduce the friction between these and your skin, apply a lube like Vaseline or Body Glide. On longer runs you might discover a few other areas (nipples and armpits) in need of a little anti-friction treatment.
Sunscreen
Any sport sunscreen should be waterproof and broad spectrum. That usually means a zinc oxide or titanium dioxide based sunscreen. These physical sunscreens (also called mineral sunscreens) will give you UVA & UVB protection and are less likely to irritate sensitive skin. Beyond that, choice really comes down to your skin type. SPF30 might be enough for people with a darker complexion whereas lighter-skinned folk will need the UV-blocking power of SPF 50.
Optional
Sport watch
GPS watches have become a bit of a thing in recent years with Garmin's Fenix series and Suunto's 9 Baro being particularly popular. Most running watches can provide runners with stats like pace, time, and distance, but trail-specific watches go one further by including functions that can show elevation and navigation. Such a device should also boast a long battery life, especially if you plan to rely on the GPS (shortens run time).
Trekking poles
On steep or rugged trails, trekking poles can help you balance, improve efficiency, and reduce the strain on your hips and knees. This is particularly advantageous on longer runs, where a slower pace also lends itself to the use of sticks. When they're not needed, most runners strap them to the outside of your pack or vest for easy access. But poles are not for everyone, and I suggest that you first read my article When to use trekking poles before deciding if you want to give them a try.
Get more advice from this gearhead
That's it – everything you need to get started in trail running and a few other things you might find useful. But don't stop here. On this website you'll find many more articles filled with tips and insights that can ease your entry into the exciting new world of trail running. Look for these under the 'Hiking & Running'' section or 'Gear' and 'Skills' in the sidebar if you are looking for something specific. Alternatively, sign up for my newsletter to get all the latest from Trail & Crag delivered straight to your inbox.