There are many reasons why trekking poles have become popular with runners and backpackers, but that's not what this article is about. For a full explanation of the pros and cons of trekking poles, you should read the first article in this series, When to Use Trekking Poles, which explains why you might want to use poles as well as how to use them properly. The article you're reading right now assumes that you've already decided that you want trekking poles and that you now need to choose a pair. Different types of poles are suited to different applications, and the purpose of this gear guide is to help you choose the best pair of poles for your next adventure.
Types of trekking pole
There are three main types of trekking pole, each with its own advantages and disadvantages.
Single-piece poles
If you're going to use your poles for most of the time you'll have them with you – and you don't mind carrying them when they're not needed – you should at least consider a pair of fixed-length non-folding poles. These are lighter and stiffer than foldable poles and are generally more reliable since they have no joints or locking mechanisms. But this level of commitment means that fixed-length poles are only for outdoorsmen who have a lot of experience using poles and who will use them going uphill, downhill and on the flats.
Foldable poles
Folding poles are a relatively new development. They're the lightest and most compact type of pole out there, but they aren't as durable as most three-section telescoping poles. That said, they are still strong enough for most hikers with light packs and are perfect for runners. They're also a good option for alpine climbers, who would put them into a pack for a climb. But they're not adjustable, which can make tarp rigging more challenging if they're not the right length for your shelter.
Adjustable-length poles
There are actually two types of adjustable-length pole. Three-section telescoping poles are the most common on the market and are the most durable. They are popular with hikers, for whom strength and durability are more important than low weight. The adjustability of this design also makes these poles better for rigging tarps and shelters. The other type of adjustable pole combines the best aspects of folding and telescopic poles by incorporating a telescoping section into a folding design. This makes the pole adjustable – although not as much as a telescoping pole – while adding only a little weight.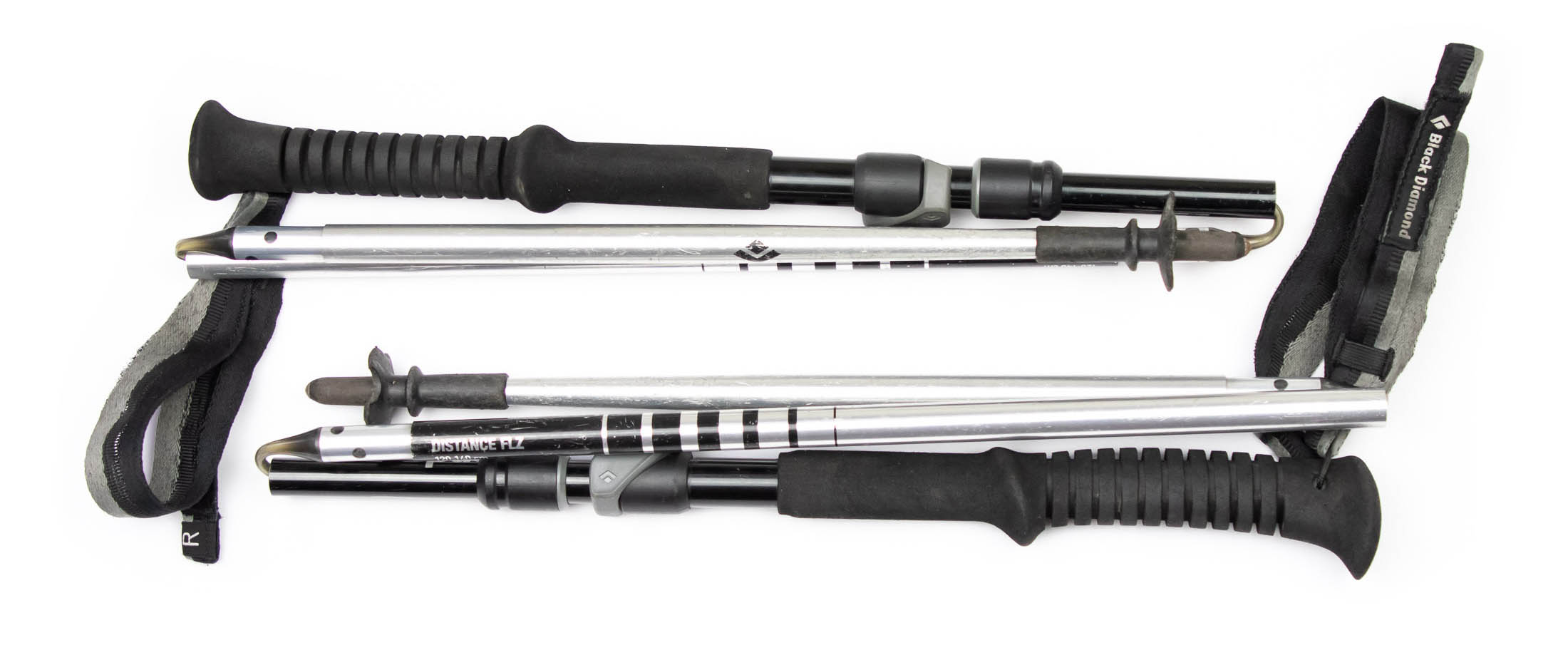 Features
Grip
Almost all poles have ergonomically-shaped grips, but not all designs are equal. The more expensive models have better ergonomics, something that discerning outdoorsmen are prepared to pay for. But shape is also not everything. The different types of grip material also have their pros and cons.
Cork
Cork grips are often said to be the most comfortable since they conform to the shape of your hands over time, and they stay cool during warm hikes. The downside to cork is that it doesn't absorb sweat quite as well as foam grips, and it can get slippery on long, warm hikes.
Foam
Foam is the lightest and most comfortable grip material, and it absorbs sweat well, making it the best choice for warm weather hiking and running. Like rubber grips, foam grips can produce friction blisters or hotspots from repeating rubbing, so you should take care to reduce friction on longer runs and hikes.
Rubber
Rubber is heavier than both cork and foam, and it does nothing to absorb moisture. This makes it a poor choice for warm weather hiking, where sweaty hands on rubber can result in chafing. However, rubber offers better insulation, which makes it a good choice for mountaineering, snowshoeing, and other winter sports.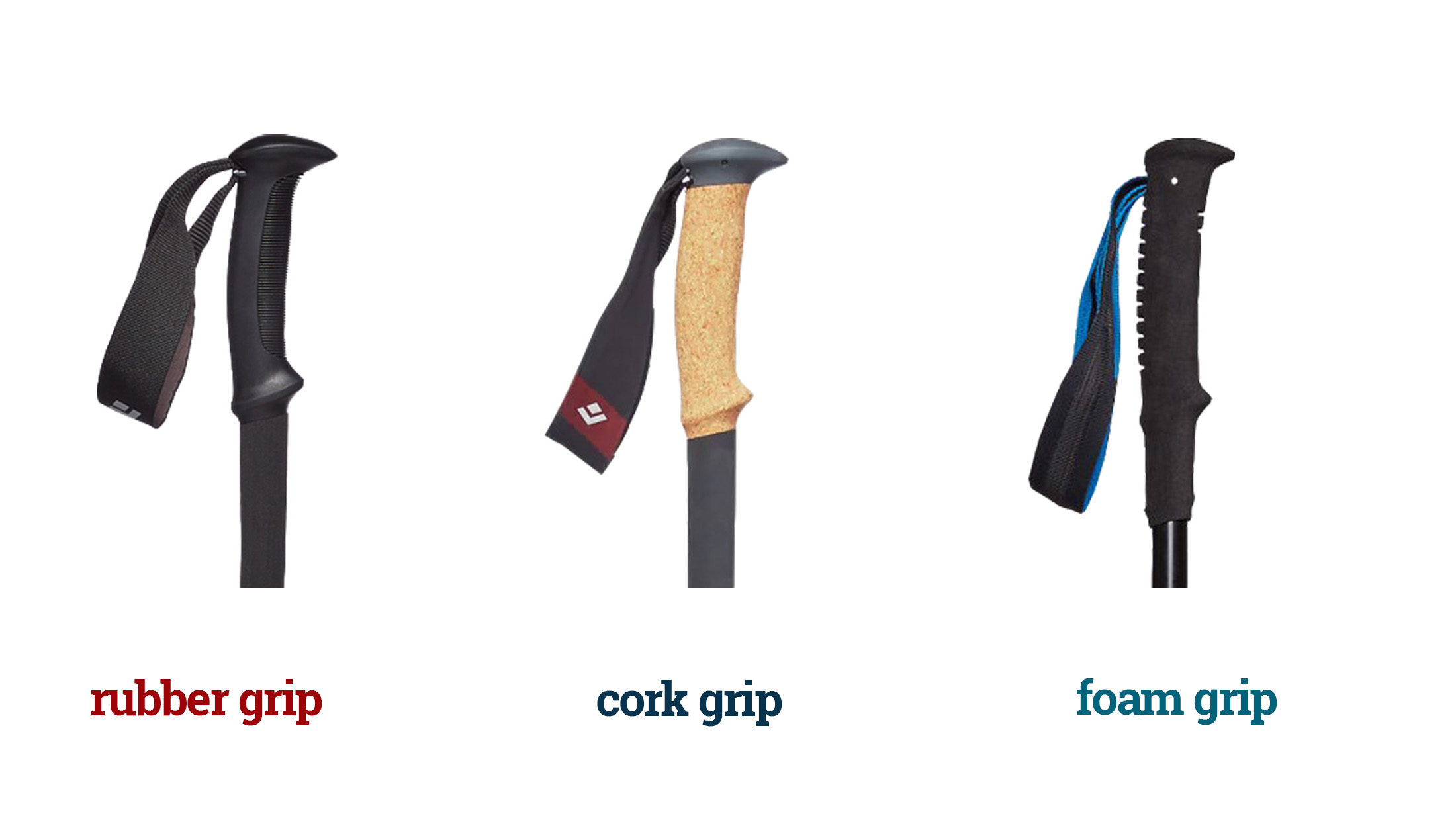 Straps
Regardless of whether you're going to use your poles for hiking or running, it's safe to say they should have straps. Straps don't only stop your poles from falling to the ground if you let go of them; they also allow you to ease your grip on the handles even as you weight them. Many trekking poles have right-hand and left-hand specific straps, and some have padded or lined straps to help prevent chafing. See this video for instructions on how to use trekking pole straps properly.
Locking & adjustment mechanisms
Almost all folding poles are designed the same (with an internal elastic cord similar to that used inside a tent pole), so you won't have much choice there if you choose a folding design. But adjustable poles have evolved over the years. Originally, all telescoping poles were designed around a twistlock mechanism, but lever locks offer greater security and so have become the new norm.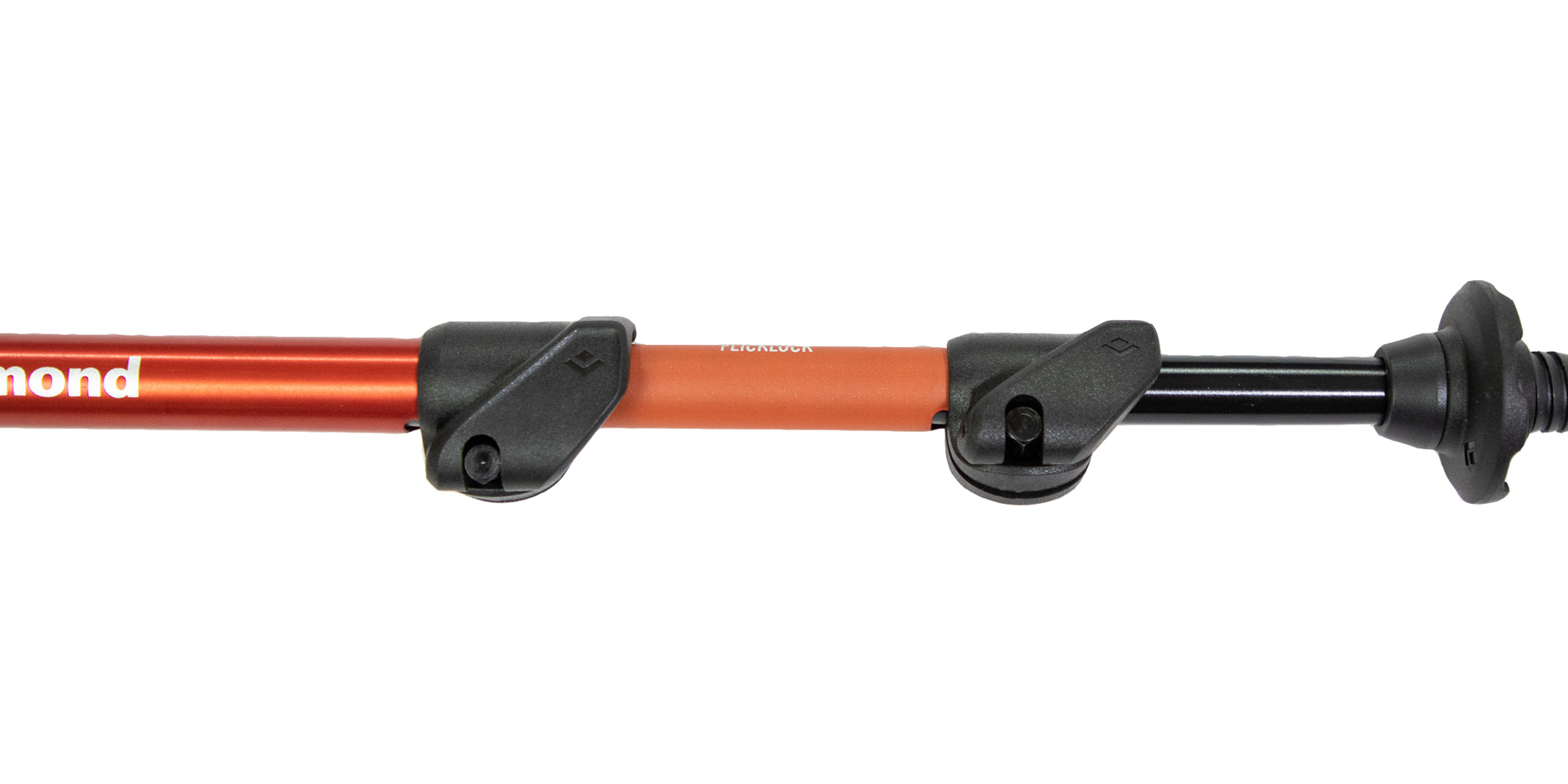 Shaft material
The material a pole is made off will affect its weight, durability, and even its handling properties. 
Aluminium
Aluminium is the obvious choice for an economical but durable trekking pole. Constructed from 7075 aluminum, these poles are very strong and weigh not much more than carbon poles (around 40g or 1.4oz extra per pole). Because they can take some abuse, they're suitable for activities that involve rugged terrain and heavy use: mountaineering, canyoneering, and hiking in craggy areas with a heavy pack.
Carbon
Although not as robust as aluminium poles, a pair of carbon poles will last for years if looked after. The lightness of carbon poles means that they can actually reduce energy expenditure over greater distances, making them particularly suitable for running, fastpacking, thru-hiking and alpine climbing. The disadvantages of carbon poles are that they are more expensive and more vulnerable to splintering and breaking. That's something to keep in mind if you're going to hike into the back of beyond.
Packed size
Packability is important for trail runners, who need to attach their poles to their vests, and to mountaineers and alpine climbers, who sometimes need to put their poles into a pack. For this purpose, the best pole is a 3-piece foldable pole or, if you need versatility, a hybrid folding-adjustable pole – the kind that features an adjustable telescoping section in the top piece of a 3-section folding design.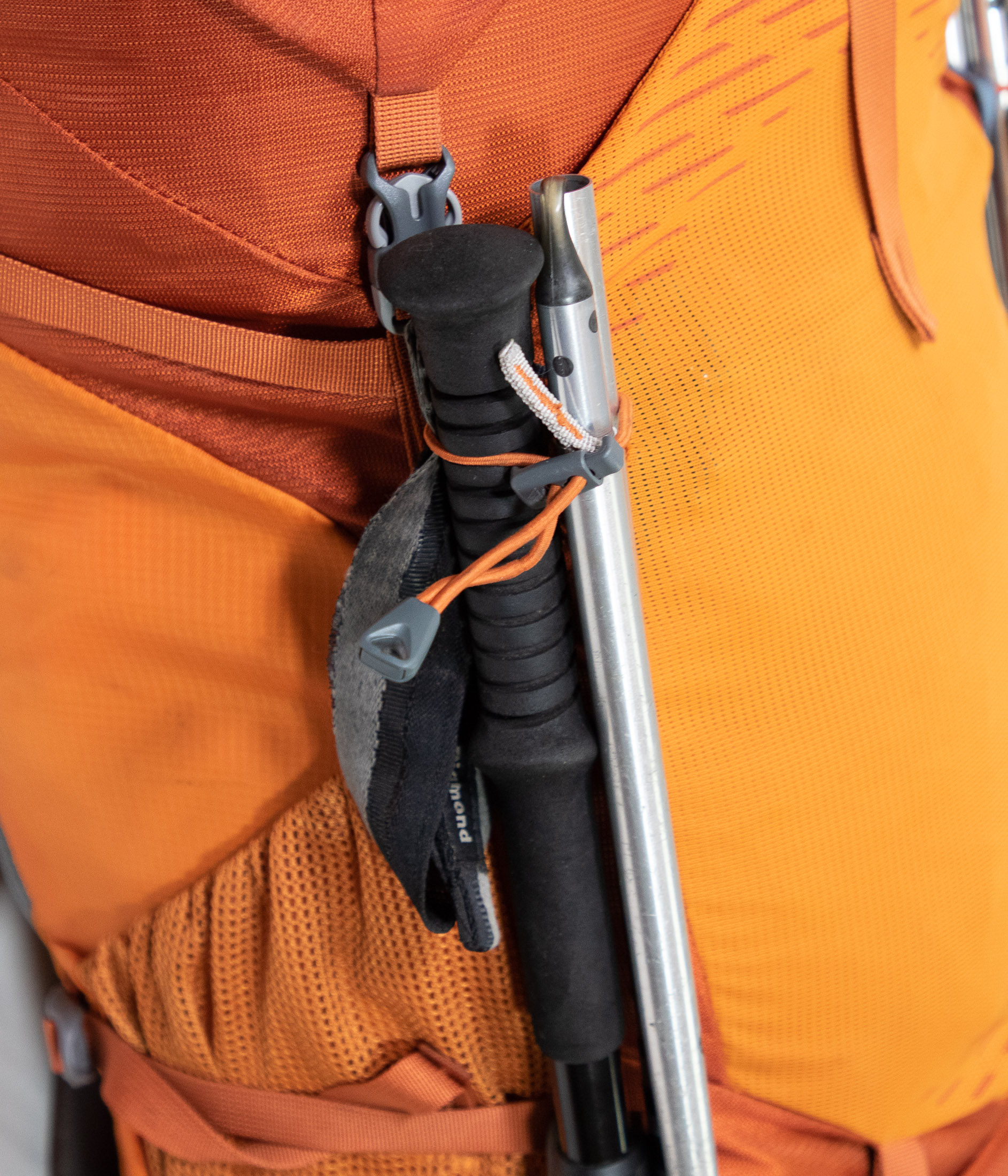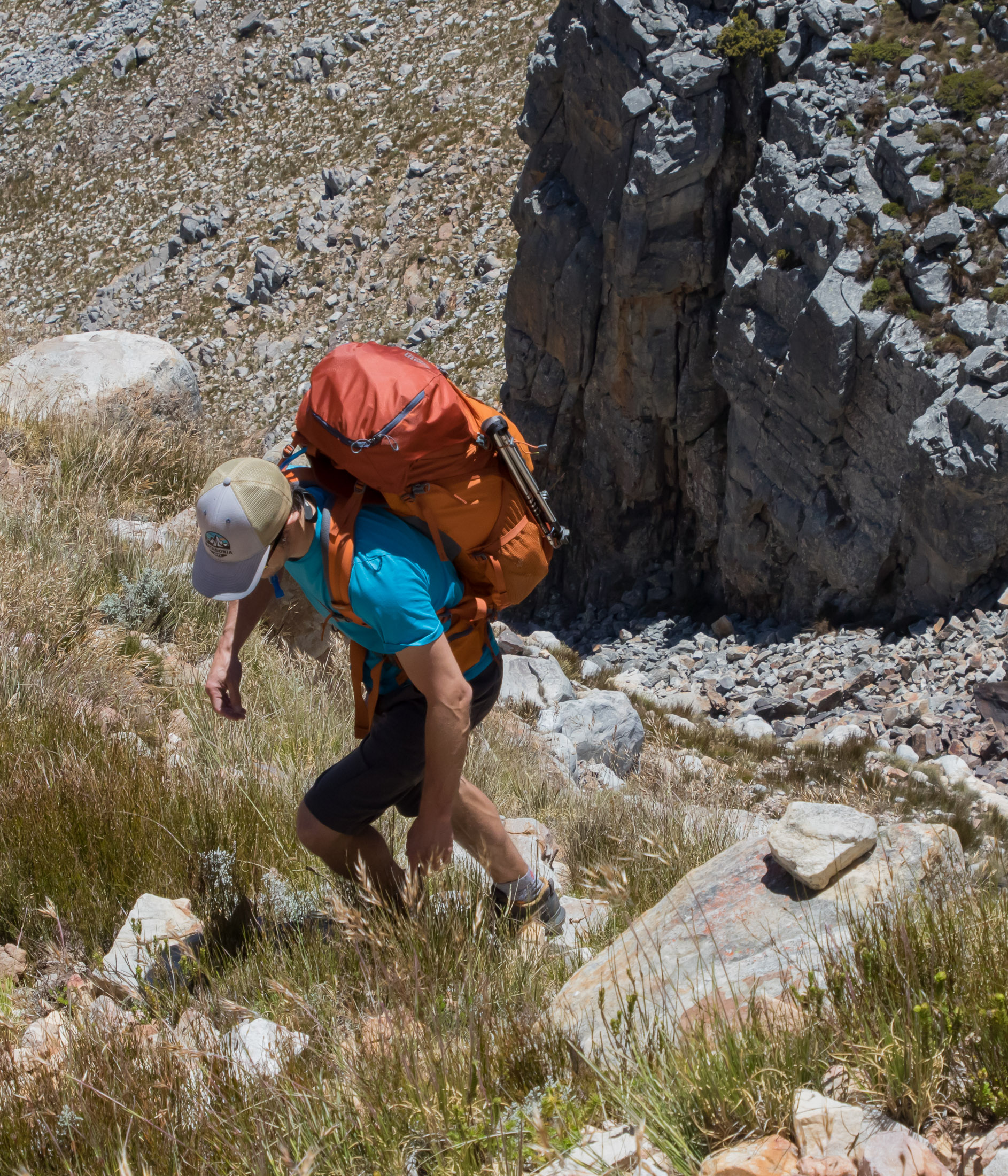 Baskets
Different activities can require pole baskets of different sizes. Snow sports call for larger baskets to provide extra surface area, but you wouldn't want these in summer when they could easily get hung up on roots and bushes. For most summer hiking, you can get by with something much smaller – a basket just big enough to stop you from sinking the pole into softer ground. And on the driest, rockiest trails, you might decide to do away with baskets altogether.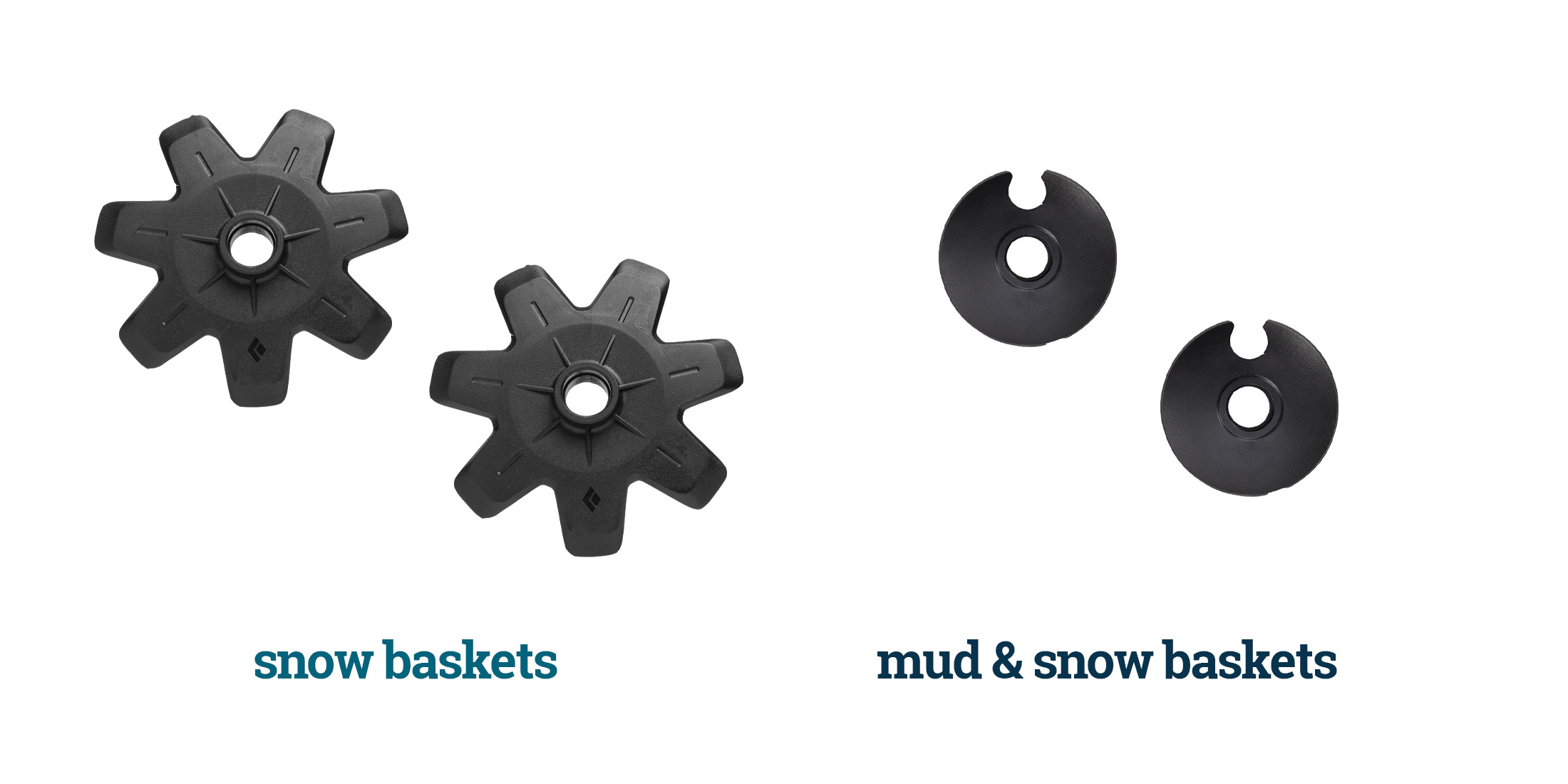 Tips
As more and more people start using trekking poles, the visible effects of poles on trails increase. It's no longer acceptable to thrash at a trail willy nilly with metal tips. All trail users should carry rubber tips or tip protectors for rockier sections of a trail.
Fixed metal tips and pressfit rubber tips
Carbide steel tips bite well in loose dirt, softer rock, and even ice, but they can skid on harder surfaces. They're also known for being noisy and for damaging rocky trails, especially popular routes that get a lot of traffic. To protect the rock and give pole tips better purchase on slick rock, most hikers and runners fit their poles with rubber tip protectors that go over the permanently fitted metal tips. This does the trick most of the time, but sometimes a tip can fall off, littering the trail and depriving you of your pole accessory. Always carry a few spares.
Interchangeable screw-on tips
Today, there are at least a few poles that come with interchangeable tips: one carbide steel tip and another non-scarring rubber tip. Because these screw on and off, they're a lot less likely to fall off. Of course, this innovation comes with it's own downside, and that is that it takes more time and effort to screw-on an interchangeable tip than it does to press fit a traditional rubber tip over a fixed metal tip. But with new regulations in certain areas – those requiring the use or rubber poles tips all the time – that might not be such a detractor.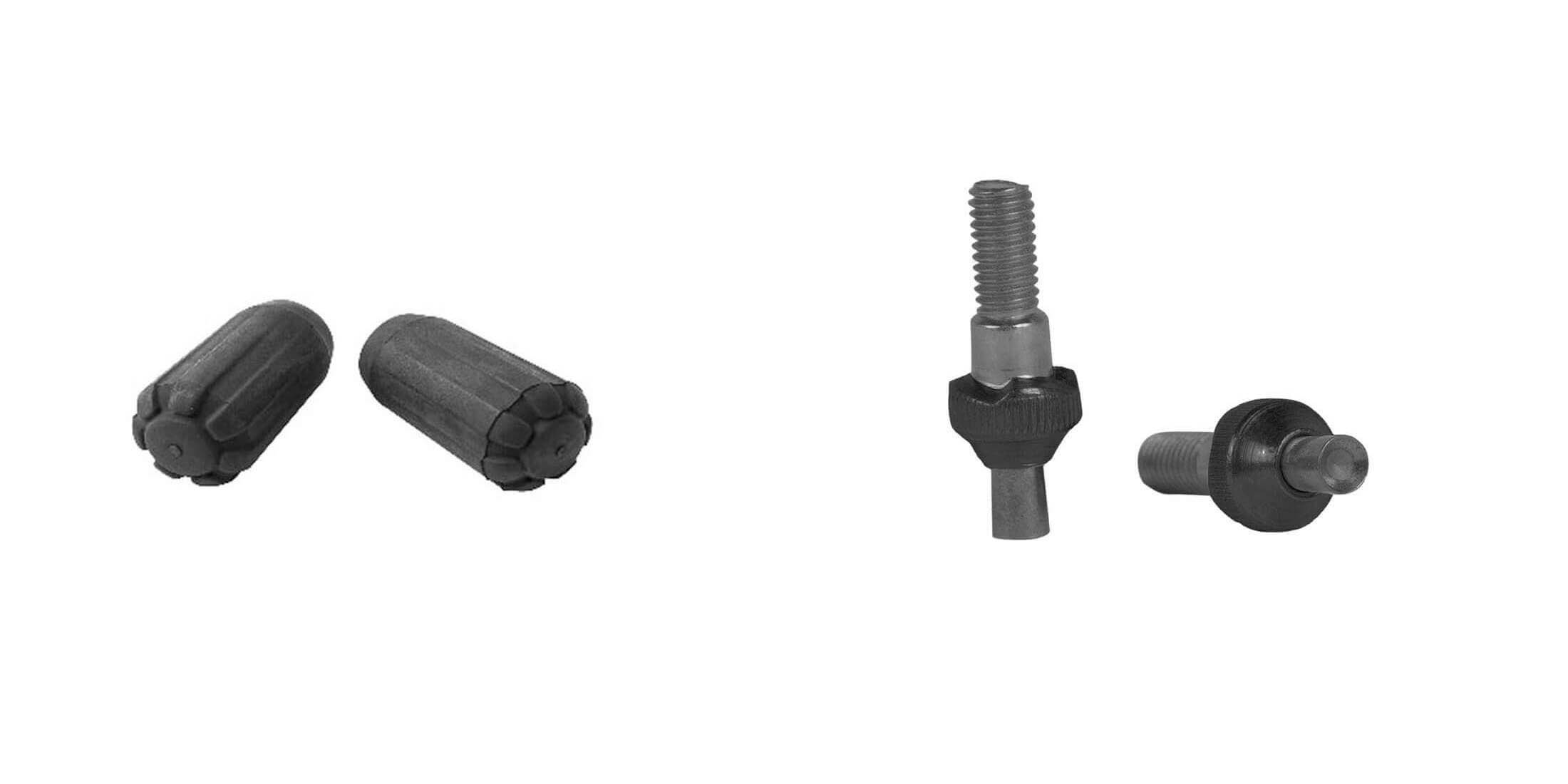 What about shock-absorbers?
I've seen major outdoor publishers claim that shock-equipped poles are perfect for people with creaky knees. Rubbish. You don't walk on your poles. Any shock generated and transmitted through a pole would go into your hands and arms, and those have perfectly good natural shock absorbers –your wrists, elbows, and shoulders. If anything, shock-equipped poles will only hamper your movement. Shock-absorbing poles are heavier than normal poles and will only waste your energy by compressing under your weight.
Sizing
Since they have a limited range, even adjustable poles have to be sized correctly. But correct sizing is most important when choosing a single-piece or foldable fixed-length pole. Properly sized poles will put your elbows at a 90-degree bend when you hold the poles with tips on the ground near your feet.
The below chart provides recommendations on trekking pole length based on height, but always check manufacturers guidelines before making a decision. Or, better yet, try out poles of different lengths in your local gear store.
| Height | Pole length |
| --- | --- |
| <154 cm  | 100 cm (39 in) |
| 154 - 171 cm | 110 cm (43 in) |
| 172 - 182 cm | 120 cm (47 in) |
| 183 cm + | 130 cm (51 in) |
Poles for different activities
Trail runners
In most cases, fixed-length foldable carbon poles will be the best choice for runners. Foldable poles are lightweight, stiff, and fuss free. They fold up into lengths shorter than equivalent adjustable poles (a must if you're going to carry them on your vest), and they're quick and easy to assemble. If you need something more versatile, the only other type of pole I'd recommend for trail running is a hybrid foldable-adjustable pole. This type of pole adds a level of adjustability at the cost of just a little extra weight, something you won't notice if you go with carbon poles. This type of pole is also a good choice for fastpackers, who might need their poles to pitch a shelter.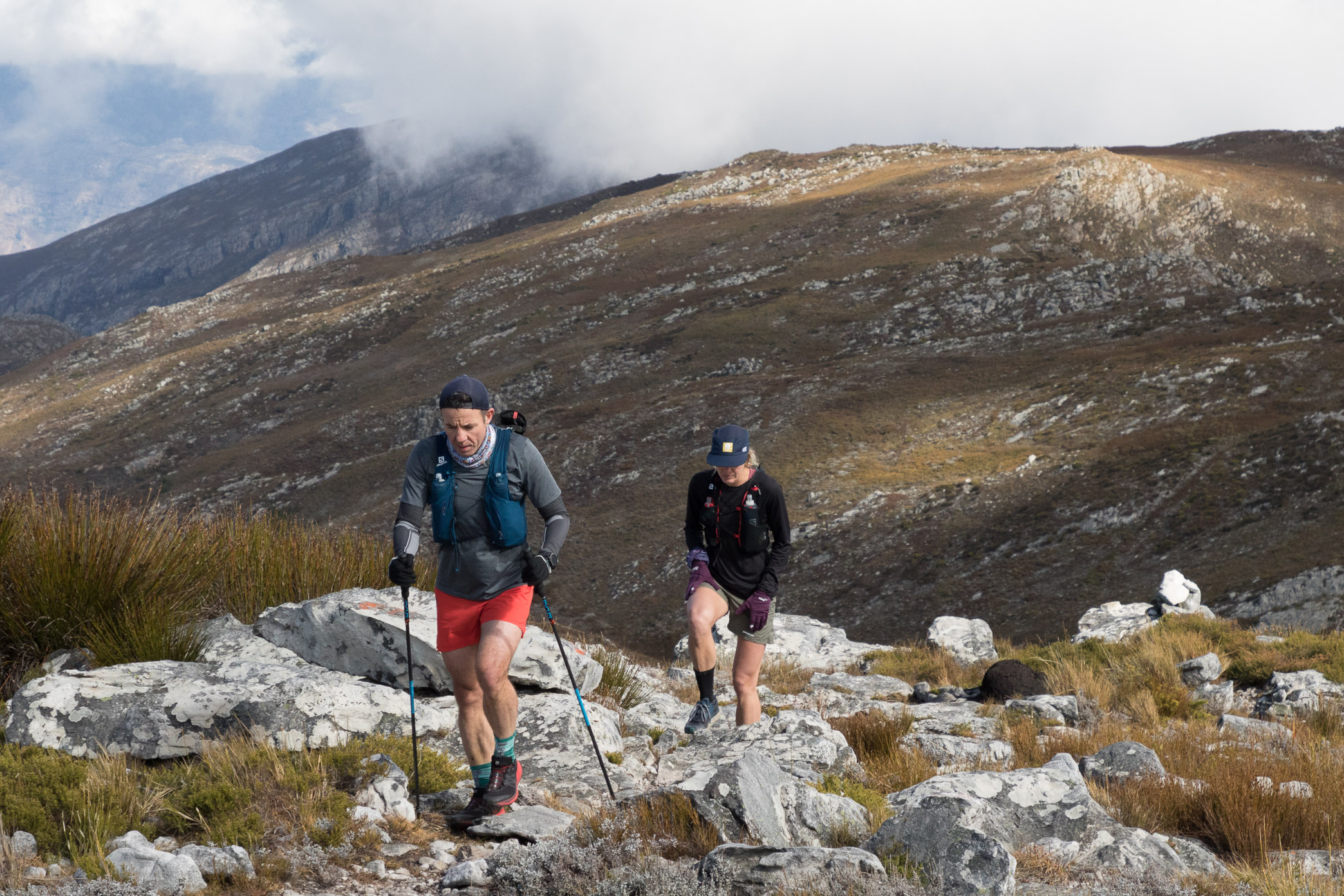 Backpackers
Three-section telescoping poles are the most popular amongst hikers for whom reliability and versatility are the biggest factors. Fully adjustable poles are a bit stronger than foldable poles and are just the ticket for rugged terrain and heavy use. But, if you're going to thrash your poles deep into the backcountry, you should also give careful consideration to shaft material. Light carbon poles are popular with many thru-hikers, but that doesn't mean that they're the best choice for your first 1000-kilometer epic. Carbon poles are more prone to splintering and breaking when abused – something to think about if you're going to be lugging a full pack over technical terrain days away from civilisation.
Get more advice from this gearhead
You now know everything you need to know about trekking poles. But don't stop here. On this website you'll find many more in-depth gear guides on everything from camping stoves to outdoor apparel as well as many more how-to articles. See the links below for favourites or, even better, sign up for my newsletter to get all the latest from trail and crag delivered straight to your inbox.